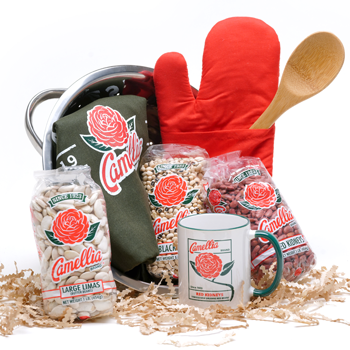 The Best Seller Gift Basket is a gift of Camellia Brand best selling flavorful favorites. This gift includes Camellia Brand signature Red Kidney Beans, Large Lima Beans and Blackeye Peas. Along with great Camellia branded merchandise for the kitchen – including apron, mug, and wooden spoon – a versatile assortment of beans will soon have the lucky recipient simmering delicious one-pot meals, soups, stews, and chili for family and friends.
Gift Includes:
1 lb. packages of Camellia Brand Red Kidney Beans
1 lb. packages of Camellia Brand Large Lima Beans
1 lb. packages of Camellia Brand Blackeye Peas
1 Wooden Spoon
1 Camellia Apron
1 Camellia Mug
1 Oven Mitt
Metal Colander
About Blackeyes
Blackeye peas and cabbage or other greens is a traditional New Year's Day meal in the American South and elsewhere. The blackeye peas swell up when cooked and are thought to symbolize coins, while the greens that typically accompany them are thought to symbolize dollar bills.
Read More