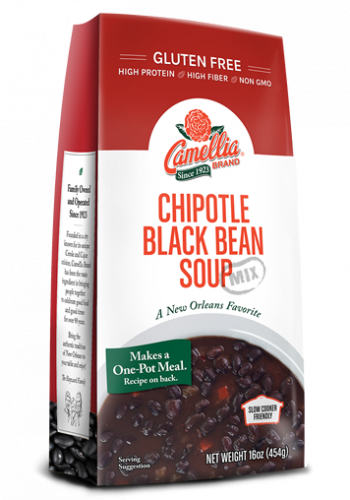 Chipotle Black Bean Soup Mix
Gluten Free
High Protein
High Fiber
Non GMO
No Artificial Ingredients
Our new Chipotle Black Bean Soup Mix makes a healthy, flavorful one-pot meal your whole family will enjoy. And it's so easy to prepare! Just add a few ingredients, and simmer on the stove or in your slow cooker. Featuring a bold seasoning packet right in the bag, this savory mix turns into a hearty, nutritious, and delicious soup. Add toppings like Greek yogurt, avocado and shredded Cheddar cheese, and serve with a quick quesadilla for a Southwestern-style dinner. Plus, it's high in fiber, gluten free, non GMO, and has no artificial ingredients.
Camellia is a trusted, family-owned New Orleans company that's been bringing you the highest-quality beans since 1923, and now we're proud to introduce Chipotle Black Bean Soup Mix as part of a line of great-tasting dinner and soup mixes that make busy weeknight dinners simple.
Nutritional Information
close
Nutrition Facts
Serving Size: ¼ cup dry beans + ¾ teaspoon seasoning (55g)
Number of Servings: about 9
Amount Per Serving
Calories 160
Calories from Fat 9
% Daily Value
Total Fat 1
1%
Saturated Fat 0g
0%
Trans Fat 0g
Cholesterol 0mg
0%
Sodium 610mg
26%
Total Carbohydrate 34g
11%
Dietary Fiber 8g
32%
Sugars 2g
Protein 11g
32%
*Percent Daily Values are based on a 2,000 calorie diet. Your daily values may be higher or lower depending on your calorie needs.
Ingredients
close
black beans, salt, granulated onion, granulated garlic, smoked paprika, sugar, spices, chili pepper
Buy Online
Where to Buy
How To
Make It
Rinse and inspect beans.
In a large heavy pot, heat oil. Add onions and peppers. Sauté over medium high heat with 1/3 of enclosed spice packet for 5 minutes or until vegetables begin to soften.
Add beans, broth, water and the remaining spices. Bring to a boil.
Reduce heat. Cover and simmer the soup, stirring often, until beans are soft, 3-4 hours.
Stir in 1-2 tablespoons of fresh squeezed lime juice to suite your taste.
For a smoother consistency, use the back of a spoon to mash some of the beans on the side of the pot or process beans in a blender.
Garnish with toppings for optimal taste.
Add water or stock as necessary to obtain desired consistency.
Soak the beans overnight for faster cooking time. If beans are soaked, cooking time can be reduced to 2 hours.
Serving size per package: ¼ cup dry beans + ¾ teaspoon seasoning
Servings per package: about 9
Find the Slow Cooker version of this recipe here: www.camelliabrand.com/SlowCooker
Additional Ingredients

You'll Need:
1 Tbsp. olive oil
2 medium red onions, chopped (about 2 cups)
1 large red bell pepper, chopped (about 1 ½ cups)
1 quart no-salt-added chicken stock
1 quart water
1 lime
Optional Toppings:
Sour cream or plain yogurt
Avocado
Shredded cheese
Cilantro