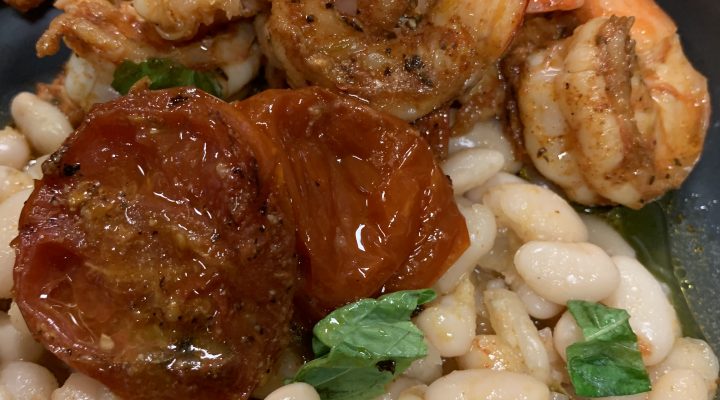 Contributed by
Chef Ryan Shepherd
Cajun Garlic Shrimp with Cannellini Beans
Directions:
Instructions (for the beans):
For the Camellia Cannellini Beans: Slowly simmer onions, celery, garlic and bay leaves in canola oil over medium heat until the vegetables smell sweet and become translucent. Add the seasoning and continue cooking, stirring well, for another minute. Add the drained Camellia Cannellini beans and water stirring well. Add the water and turn the heat to high to bring the pot to a boil for 10 minutes. Drop the heat to bring the pot to a low simmer and cook, uncovered, for 1-1.5 hours, or until the beans are tender.
Instructions (for the shrimp):
Mix all herbs and spices together in a small bowl, stirring to break up any clumps. Next, toss the shrimp with enough seasoning to cover generously. Heat a large enough sauté pan over high heat until piping hot. Add the oil to the pan and swirl to coat. Immediately add the seasoned shrimp and cook on each side for 1-2 minutes or until cooked through. Remove from the heat and serve over a bowl of hot Camellia Cannellinis with your favorite garlic bread and garnishes of your choice.
Garnish ideas:
Basil, chiffonade

Roasted tomatoes

Crusty, crunchy garlic bread for dipping

Italian vinaigrette for drizzling