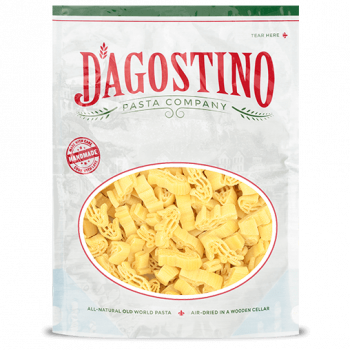 Alligator Shaped Pasta
Description
Since their discovery, alligators have always been a part of the Louisiana economy as they've been used for food, boots, saddles, and oil.  They are considered a great renewable resource.
So of course, we made an alligator pasta shape to honor their connection to Louisiana culture and history. We recommend you serve these at the next LSU vs. University of Florida tailgate!
All Dagostino pasta is made in-house using the "delicate" method developed centuries ago in Palermo, Sicily. Small quantities of pasta are extruded through bronze dies created specifically for each shape. The pasta is carefully looped over wooden rods, straightened, then air-dried in wooden cellars.
No microwaves. No preservatives. No additives. No artificial coloring.
To learn more about Dagostino Pasta, visit http://www.dagostinopasta.com.
Our Guarantee
When you order from Camellia Brand, we do our very best to ensure that your order will arrive in good condition. If for any reason your order does not arrive in good condition, simply notify us for a prompt courteous replacement or refund.