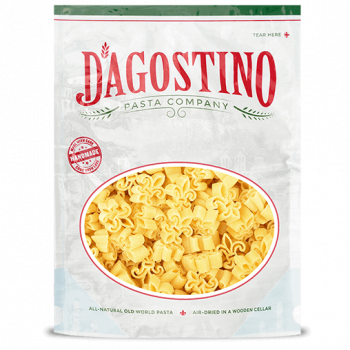 Fleur de Lis Shaped Pasta
Description
The Fleur De Lis has a long-standing history with French royalty and was adopted by Louisiana during the French occupation.
But like many other things, Louisiana has taken the Fleur De Lis and made it their own. For many, it symbolizes the rebirth of the coast after Katrina, or it can symbolize the holy trinity, but the rest of the world associates the Fleur De Lis with our beloved New Orleans' Saints.
Our Fleur De Lis pasta is perfect for any gathering, but we highly recommend it for your next tailgate.
All Dagostino pasta is made in-house using the "delicate" method developed centuries ago in Palermo, Sicily. Small quantities of pasta are extruded through bronze dies created specifically for each shape. The pasta is carefully looped over wooden rods, straightened, then air-dried in wooden cellars.
No microwaves. No preservatives. No additives. No artificial coloring.
To learn more about Dagostino Pasta, visit http://www.dagostinopasta.com.
Our Guarantee
When you order from Camellia Brand, we do our very best to ensure that your order will arrive in good condition. If for any reason your order does not arrive in good condition, simply notify us for a prompt courteous replacement or refund.