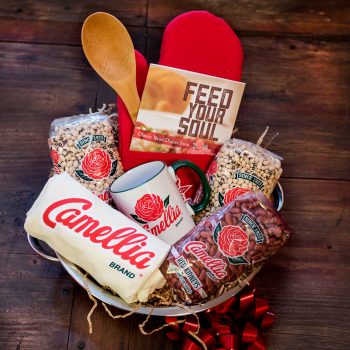 Luck & Money Beans Gift Basket
Description
Believed to bring luck and prosperity, our Blackeye Peas make a great gift for anyone you wish well. The Luck & Money Beans Gift Basket features two bags of Camellia Brand Blackeye Peas and one bag of Camellia Brand Red Kidney Beans, as well as great Camellia branded merchandise for the kitchen, like our cookbook, apron, mug, and wooden spoon. Recipes including New Orleans-Style Blackeye Peas, Hoppin' John, and Bessie's Best New Year Blackeyes will set the lucky recipient on the right track.
Gift basket includes:
2 (1-lb.) packages Camellia Brand Blackeye Peas
1 (1-lb.) package Camellia Brand Red Kidney Beans
1 Wooden Spoon
1 Oven Mitt
1 Camellia Apron
1 Camellia Cookbook
1 Camellia Mug
Metal Colander
Our Guarantee
When you order from Camellia Brand, we do our very best to ensure that your order will arrive in good condition. If for any reason your order does not arrive in good condition, simply notify us for a prompt courteous replacement or refund.