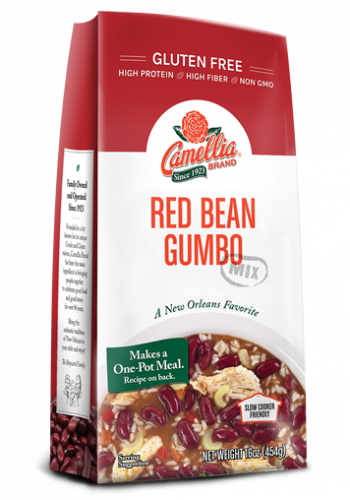 Red Bean Gumbo Mix
Description
Gumbo is a beloved Louisiana tradition - cooked and enjoyed in homes and restaurants all over the state. And if you're looking for a foolproof way to make perfect, flavorful gumbo your whole family will enjoy, our new Red Bean Gumbo Mix makes it easy to prepare! Just add a few ingredients, and simmer on the stove or in your slow cooker. Featuring a bold seasoning packet right in the bag, this savory mix turns into a hearty, nutritious, and delicious main dish. Simply serve over hot fluffy rice, and you've got a great dinner any night of the week. Plus, it's high in fiber, gluten-free, non-GMO, and has no artificial ingredients.
Camellia is a trusted, family-owned New Orleans company that's been bringing you the highest-quality beans since 1923, and now we're proud to introduce Red Bean Gumbo Mix as part of a line of great-tasting dinner and soup mixes that make busy weeknight dinners simple.
Our Guarantee
When you order from Camellia Brand, we do our very best to ensure that your order will arrive in good condition. If for any reason your order does not arrive in good condition, simply notify us for a prompt courteous replacement or refund.