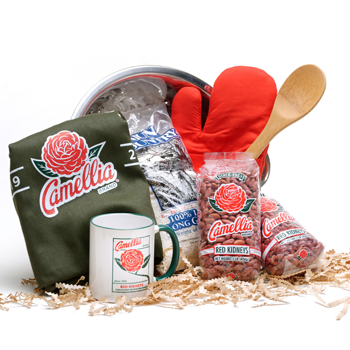 Red Bean Monday Gift Basket
Description
Making red beans and rice is a beloved ritual and tradition in New Orleans, and for many, prepping the beans and vegetables and gently coaxing that pot of goodness into a state of creamy perfection is both a pleasurable experience and a bit of kitchen therapy. Give someone the essentials for #RedBeansDoneRight with our Red Bean Monday Gift Basket, featuring our signature Red Kidney Beans and Cajun Country Rice. This gift basket is also overflowing with great Camellia branded merchandise for the kitchen – like our apron, oven mitt, mug, and wooden spoon. They'll be cooking up Camellia's Famous New Orleans-Style Red Beans and Rice before they know it.
Gift basket includes:
2 (1-lb.) packages of Camellia Brand Red Kidney Beans
1 (1-lb.) package Cajun Country Rice
1 Wooden Spoon
1 Camellia Apron
1 Camellia Mug
1 Oven Mitt
Metal Colander
Our Guarantee
When you order from Camellia Brand, we do our very best to ensure that your order will arrive in good condition. If for any reason your order does not arrive in good condition, simply notify us for a prompt courteous replacement or refund.