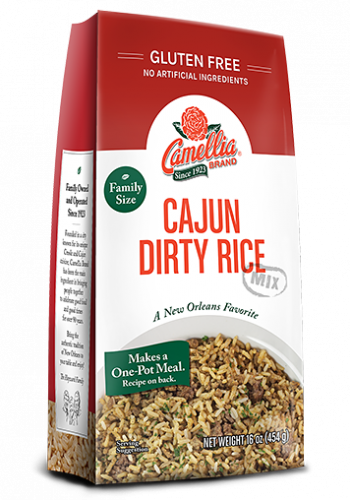 Cajun Dirty Rice
Gluten Free
High Protein
High Fiber
Non GMO
No Artificial Ingredients
Dirty Rice is a traditional South Louisiana dish featuring rice, spices and fresh ground beef, sausage or chicken livers. And if you're looking for a foolproof way to make perfect, flavorful Dirty Rice your whole family will enjoy, our new Cajun Dirty Rice Mix makes it easy to prepare! Just add a few ingredients, and simmer on the stove or in your slow cooker. Featuring bold seasonings right in the bag, this savory mix turns into a hearty, nutritious, and delicious main dish. Add a green salad and some crusty bread, and you've got a great dinner any night of the week. Plus, it's gluten free, non GMO, and has no artificial ingredients.
Camellia is a trusted, family-owned New Orleans company that's been bringing you the highest-quality beans since 1923, and now we're proud to introduce Cajun Dirty Rice Mix as part of a line of great-tasting dinner and soup mixes that make busy weeknight dinners simple.
Nutritional Information
close
Nutrition Facts
Serving Size: 1/4 cup dry mix (46g)
Number of Servings: about 10
Amount Per Serving
Calories 150
Calories from Fat 4.5
% Daily Value
Total Fat 0.5
0%
Saturated Fat 0g
0%
Trans Fat 0g
Cholesterol 0mg
0%
Sodium 1070mg
46%
Total Carbohydrate 14g
4%
Dietary Fiber less than 1g
0%
Sugars 2g
Protein 4g
0%
*Percent Daily Values are based on a 2,000 calorie diet. Your daily values may be higher or lower depending on your calorie needs.
Ingredients
close
long grain rice, dehydrated vegetables (onions, bell peppers, garlic), salt, hydrolyzed soy protein, sugar, paprika, disodium inosinate, disodium guanylate, natural flavorings, spices
Buy Online
Where to Buy
How To
Make It
In a large heavy pot, brown ground beef. Drain fat.
Add water and package contents. Stir to combine.
Bring to a boil, reduce heat, cover and simmer for 25 minutes.
Let stand for 5 minutes. Stir and serve.
For a smaller portion, reduce recipe by half.
Optional: To make a one dish meal, add defrosted frozen peas in the pot during the final 3-5 minutes of cooking.
Serving size per package: ¼ cup dry mix
Servings per package: about 10
Additional Ingredients

You'll Need:
2 pounds of ground beef
4 ½ cups of water or stock