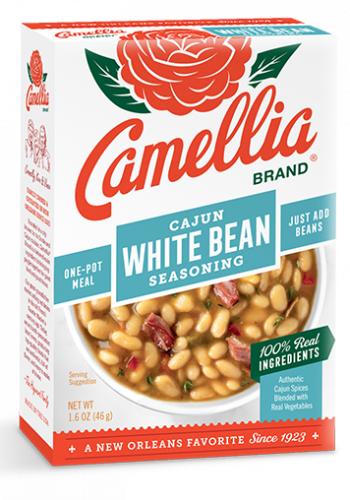 Cajun White Bean Seasoning
All Natural
No MSG
Non-GMO
No Artificial Flavors
No Artificial Colors
Gluten-Free
Soy-Free
Vegetarian & Vegan Friendly
White Beans and Rice is a traditional South Louisiana meal. Our Cajun White Bean Seasoning is a tried-and-true blend of authentic Cajun spices and vegetables you can use to season a pot of Camellia® Brand Great Northern Beans (or your favorite white beans) to perfection.
Nutritional Information
close
Nutrition Facts
Serving Size: ½ teaspoon (2.5g)
Number of Servings: 18.5
Amount Per Serving
Calories 4
Calories from Fat 0
% Daily Value
Total Fat 0
0%
Saturated Fat 0g
0%
Trans Fat 0g
Cholesterol 0mg
0%
Sodium 410mg
17%
Total Carbohydrate 1g
0%
Dietary Fiber 0g
0%
Sugars 0g
Protein 0g
0%
*Percent Daily Values are based on a 2,000 calorie diet. Your daily values may be higher or lower depending on your calorie needs.
Ingredients
close
Salt, Red and Green Bell Peppers, Onion, Garlic, Spices, Chives
Produced in a facility that processes: MILK, EGG, WHEAT, and SOY
Buy Online
Find a Store
How To
Make It
JUST ADD BEANS FOR A CLASSIC ONE-POT MEAL
STOVE TOP
In a heavy pot, add 1 lb. Camellia® Brand Great Northern Beans, rinsed and sorted, plus 8-10 cups of water.
Bring beans to a boil for 10 minutes.
Stir in Cajun White Bean Seasoning.
Reduce heat, cover and simmer, stirring occasionally, for 1 to 1 ½ hours or until beans are tender.
WHITE BEANS DONE RIGHT!
Make it meaty Precook and add 1lb of sliced smoked sausage or chopped ham when adding the Cajun White Bean Seasoning.
Keep it veggie (or vegan) Add your favorite plant-based protein.
Go Classic Serve over cooked rice with cornbread or French bread.
Serving size per package: ½ teaspoon (2.5g)
Servings per package: 18.5 servings