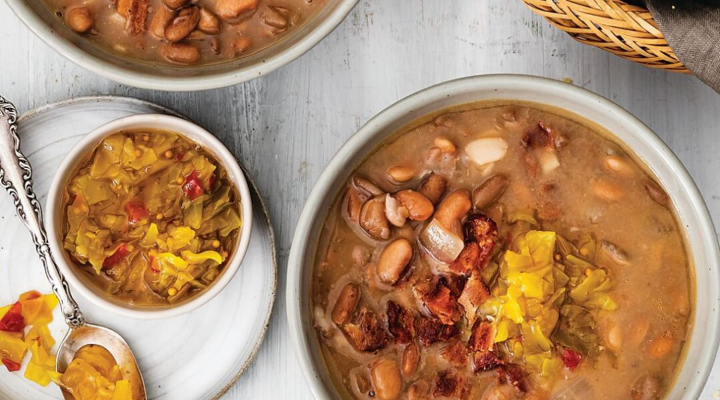 Contributed by
Taste of the South
Appalachian Soup Beans
Directions:
Rinse and sort beans. Place beans in a large bowl. Add enough water to cover beans by 2 inches. Cover bowl and let stand overnight. Drain beans.
In a medium skillet, cook bacon over medium heat until crisp. Using a slotted spoon, remove bacon and let drain on paper towels, reserving drippings in skillet.
Add onion to bacon drippings; cook over medium heat until softened, about 4 minutes. Add garlic; cook for 30 seconds.
In a 5-to 6-quart slow cooker, add beans, onion mixture, stock, 2 cups water, ham hock, peppers, and bay leaf. Cover and cook until beans are tender, 4 hours and 30 minutes on high heat or 8 hours on low heat. Uncover. Add salt and continue to cook on high for 1 hour more. Using the back of a spoon, mash a few beans. Remove ham hock and bay leaf.
Sprinkle each serving with bacon. Serve with chowchow and cornbread.