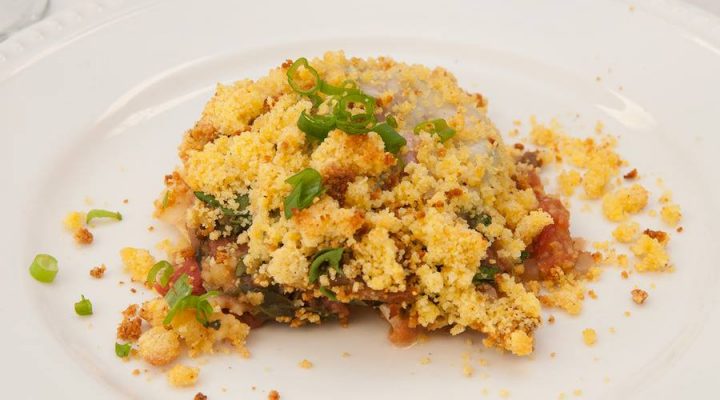 Baked Red Bean Pasta with Cornbread Crumble
Directions:
In a large skillet, heat oil over medium heat. Add onion and garlic powder and cook for 5 minutes, or until onions are just tender, stirring occasionally.
Add cooked beans, tomatoes and oregano, and bring to a boil. Reduce heat and cover; simmer for 15 minutes.
Meanwhile, cook pasta according to package directions. Drain and rinse with cold water, and drain again.
Preheat oven to 375 degrees. Add mushrooms to bean mixture in skillet, and simmer uncovered for 15 minutes, stirring occasionally.
In a separate bowl, combine cottage cheese, ½ cup of mozzarella and egg. Set aside.
Spray a 2-quart baking dish with nonstick cooking spray. Spread ½ cup of bean mixture in bottom of baking dish. Add a layer of pasta, then a layer of the cottage cheese mixture, and then a layer of spinach. Repeat, layering pasta, then bean mixture, then spinach. Top with remaining mozzarella cheese; sprinkle cornbread crumbs over cheese and then Tony Chachere's over the top.
Cover baking dish with foil, and bake for 15 minutes. Remove foil and bake for an additional 15 minutes. (Cornbread should become crisp.) Let stand for 10 minutes before serving.