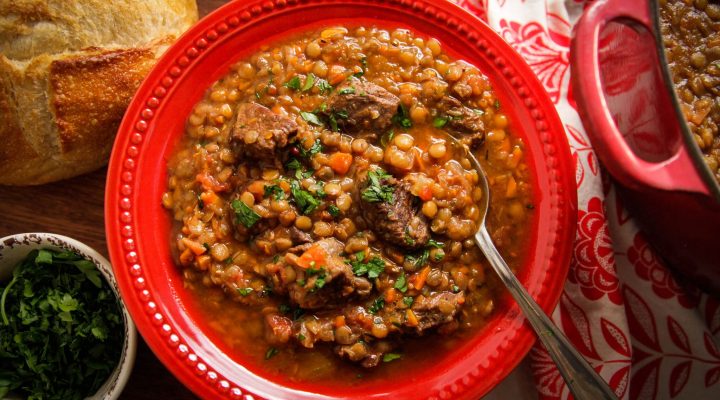 Beef & Lentil Stew
Directions:
Heat the oil in a heavy 6-7 quart stock pot over medium-high heat.
Sprinkle the beef with salt and pepper. Add beef to the pot and cook until brown on both sides about 10 minutes. Using a slotted spoon, remove beef to a bowl and reserve.
Add the celery, carrots, onion, garlic, thyme and cumin to the pot. Sauté until the onions are translucent, about 8 to 10 minutes.
Return the beef and any accumulated juices to the pot. Add the broth and tomatoes with their juice. Bring the soup to a boil. Reduce the heat to low. Cover and simmer until the meat is just tender, stirring occasionally, about 1 hour.
Add the lentils to the pot. Cover and continue simmering until the lentils are tender, about 40 minutes.
Stir in the red wine and parsley. Season the soup, to taste, with salt and pepper.