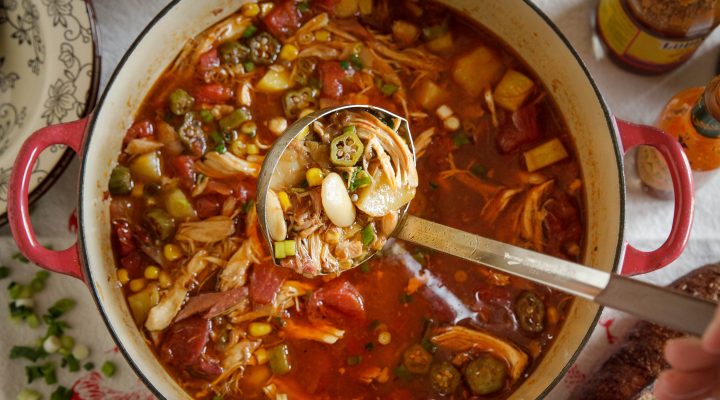 Contributed by
Crescent Dragonwagon
Brunswick Stew
Brunswick Stew is one of those southern regional dishes that is often made in enormous quantities for church and community fundraisers. But it's still made, and loved, at home. This one has a little more kick than the traditional version.
Directions:
Make the chicken base: Place a large, heavy skillet over medium heat and add the oil. When the oil is hot and shimmering, add the onion and ham hock and cook, stirring, until the onion is softened and you can smell the hammy, smoky fragrance of the hock, about 6 minutes. Transfer the onion and hock to a large Dutch oven or other heavy stew pot.
Return the skillet to medium heat, and working in batches, brown the chicken pieces, adding more oil or bacon fat if needed. When the underside of each piece is golden, use tongs to flip it; allow about 5 minutes for each side. Transfer the browned chicken pieces to the Dutch oven.
Pour about ¾ cup chicken stock into the skillet, stirring to loosen any browned bits from the bottom of the pan. Pour this liquid and the remaining stock into the Dutch oven.
Set the Dutch oven over high heat and bring to a boil. Cover, lower the heat to the merest simmer, and let cook for 45 minutes. At this point, either skim the fat from the top of the stew and discard it, or remove the stew from the heat, let it come to room temperature, cover it, and refrigerate it overnight; in the morning, remove the fat cap on the surface.
When the stew has been defatted (and brought back to a simmer, if you went the chilling route), add the tomato sauce, diced tomatoes, barbecue sauce, hot sauce, Worcestershire sauce, honey, and all of the vegetables to the pot. Season with salt and plenty of pepper to taste. Simmer, covered, until the potatoes are fork tender and the chicken and ham are almost falling off the bone, 20-30 minutes.
Fish out the chicken and the ham hock. Let them cool slightly, and then pull the meat from the bones and into big chunks. Return the meat to the pot, heat the stew through, taste again for seasonings, and serve.
Crescent Dragonwagon is the much-published author of fifty books in five genres, numerous magazine articles, and two blogs. This recipe comes from her cookbook Bean by Bean, a 175-plus recipe cornucopia overflowing with information, kitchen wisdom, lore, anecdotes, and a zest for good food and good times.