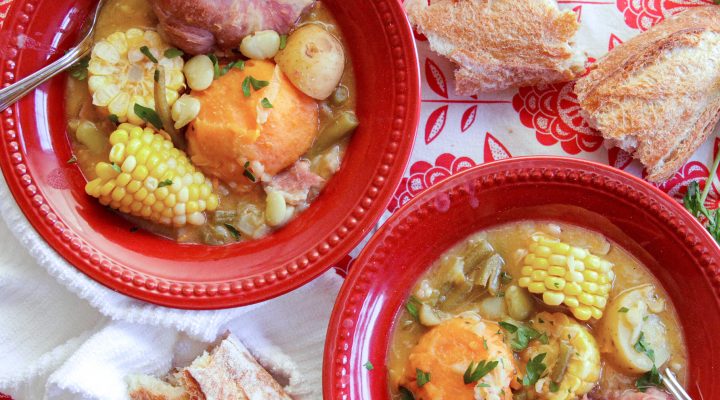 Contributed by
Dorothy L. Benge
Caldo
Directions:
Place salt pork in pot.
Cover with water and bring to a boil. Boil 5 to 10 minutes to remove some of the salt from the pork.
Drain and rinse, discarding the water.
Drain beans from overnight water and rinse.
Add beans and salt pork and pickled pork to stockpot with 3 quarts water.
Bring to a boil and cook until beans are tender, about 1 hour.
Add remaining vegetables and bouillon cubes. Cook until potatoes are done, about 20 to 30 minutes. Add more water if needed. Add salt.
Serve over rice.
Caldo is a traditional soup of the Isleños, settlers of St. Bernard Parish who came from the Canary Islands to Louisiana more than 200 years ago. This Caldo recipe is from Isleño elder stateswoman Dorothy L. Benge, and it is a family recipe passed down "from my grandmother, Camille Silvera Molero, 1891-1976."


*Salt pork usually comes from the fattiest part of the pork belly but is neither smoked nor cured like bacon, just generously salted for preservation. No other seasonings are added.
Pickled pork often is made from meatier cuts and has been rubbed and layered with a mix of salt and pickling spices such as mashed cloves, ground allspice, chopped onions, and bay leaves. The meat is rendered supremely tender and is preseasoned from the brine.
Both salt pork and pickled pork are used to flavor slow-cooked pots of beans and smothered vegetables. The fat from the salt pork melts into the dish, lending flavor, whereas the generous seasonings used in the brining process for pickled pork are rendered into the pot as the meat breaks down and saturates the pot's other ingredients with its flavors.
Both salt pork and pickled pork are available in some grocery stores. Pickled pork tends to be more available in south Louisiana. Salt pork is not hard to make — it's just pork fat and salt. For Caldo, one could use salted pork fat or pork belly as a replacement for salt pork.

From Los Isleños (Canary Islanders) Cookbook by Los Isleños Heritage & Cultural Society, © Los Isleños Heritage & Cultural Society used by permission of the publisher, Pelican Publishing Company, Inc.