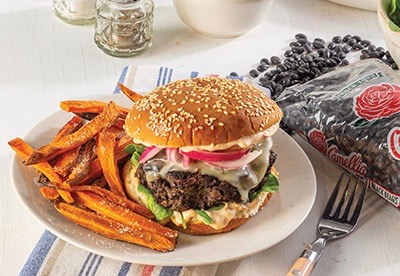 Contributed by
Taste of the South
Camellia Black Bean Burgers & Sweet Potato Fries
Directions:
In a small bowl, combine sliced red onion, red wine vinegar, sugar, and salt, stirring until sugar dissolves. Set aside.
In another small bowl, combine mayonnaise, chipotle peppers, and lime juice until smooth. Set aside.
In the work bowl of a food processor, pulse together mushrooms, minced red onion, and garlic until finely chopped. Add panko, egg, chili powder, black pepper, and salt; pulse until incorporated. Add 5 cups black beans and green onions; pulse until combined. Transfer to a large bowl, and stir in remaining 1 cup black beans. Divide mixture into 8 patties. Refrigerate patties for 30 minutes.
Preheat oven to 375°. Line a rimmed baking sheet with parchment paper.
In a large bowl, toss together sweet potato sticks, 2 tablespoons oil, and salt. Arrange in a single layer on prepared baking sheet. Bake until golden brown and crisp, 20 to 25 minutes. Sprinkle with additional salt, if desired.
Meanwhile, on a large griddle, heat 2 tablespoons oil over medium-high heat. Add patties and cook until browned on both sides and heated through, 3 to 4 minutes per side. Add cheese and cook until cheese is melted, 1 to 2 minutes more.
Serve burgers on toasted buns with arugula, chipotle mayonnaise, and pickled red onions. Serve with sweet potato fries.
This recipe and image are courtesy of Taste of the South magazine.