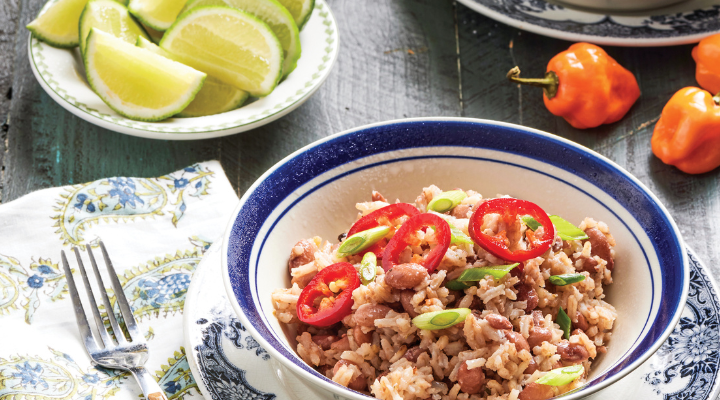 Contributed by
Taste of the South
Caribbean Beans and Coconut Rice
Directions:
In a medium Dutch oven, cover beans with water by 2 inches and let soak for 8 hours or overnight.
Drain and rinse beans. Return beans to pan. Add 3 cups water, coconut milk, onion, green onion, garlic, 2 teaspoons salt, ginger, lime zest, and black pepper. 
On a piece of cheesecloth, place thyme, habanero peppers, and allspice berries, and tie with kitchen twine; add to Dutch oven. Bring to a boil over medium-high heat. Reduce heat to low, cover, and cook until beans are tender, 45 minutes to 1 hour.
Stir in rice and remaining 2 teaspoons salt. Cover and cook for 20 minutes. Remove from heat and let stand, covered, for 10 minutes. Discard thyme sprigs, habanero peppers, and allspice berries in cheesecloth. Fluff rice with a fork. Serve with lime wedges, green onion, Fresno peppers, and hot sauce.
This recipe and image are from Taste of the South magazine.