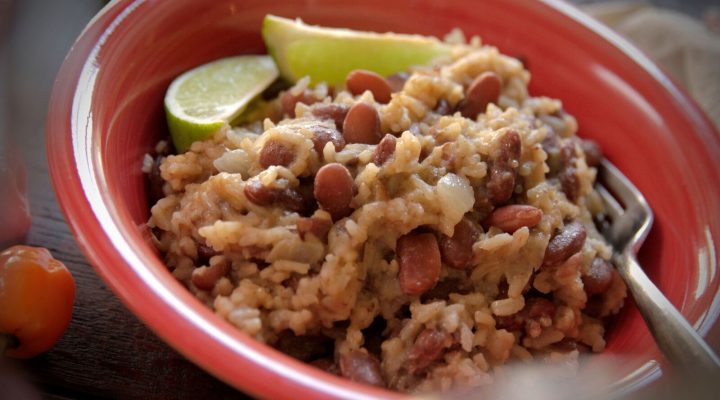 Contributed by
Jessica Harris
Caribbean Rice and Beans
This dish of rice and red kidney beans is known as peas and rice throughout most of the English-speaking Caribbean, where it shows up alongside Sunday roast chicken in Barbados, richly-flavored pepperpots in St Lucia, and steamed fish in the Virgin Islands. It makes an appearance next to jerked pork in Jamaica, but it is known there as rice and peas with the explanation given that there is more rice than peas. In Jamaica, the region's favorite composed rice dish turns up so frequently it is jokingly referred to as the coat of arms. Whatever you call it, it is a Pan-Caribbean standby.
Directions:
1. Prepare the red beans and cook until almost tender. Drain the beans, and reserve the cooking liquid. Return the beans to their cooking pot.
2. Heat the oil in a heavy skillet and brown the onion.
3. Add the onion and remaining ingredients to the bean pot, along with 2½ cups of the reserved bean cooking liquid. (If there is not enough, add cold water to supplement.)
4. Cover the pot and cook over low heat for 25 minutes, or until all the water has been absorbed, and the rice is tender. Serve hot.
Adapted from Sky Juice and Flying Fish: Traditional Caribbean Cooking.