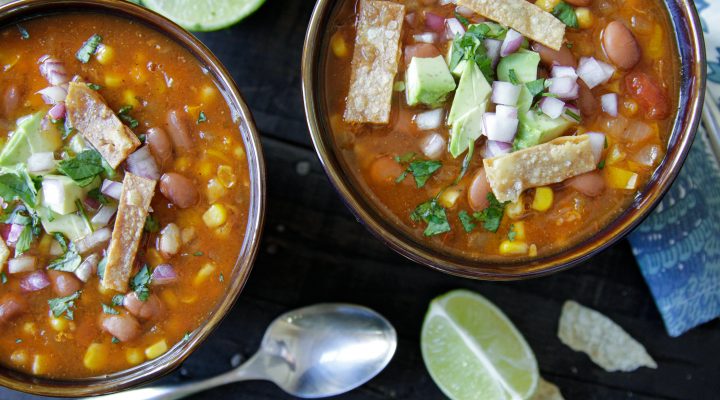 Chipotle Pinto Bean Tortilla Soup
Directions:
Heat a large pot over medium heat. Add oil, onion, garlic, bell pepper, and a pinch of salt and pepper, and stir. Cook for 4-5 minutes, stirring often, until vegetables are soft.
Add cumin and chili powder and stir well. Add salsa and vegetable broth and stir. Increase heat and bring to a boil.
Add cooked pinto beans and corn. Stir, reduce heat to a simmer, and cover pot.
Simmer covered for 30 minutes.
While soup is simmering, make the crunchy tortilla strips. Preheat oven or toaster oven to 375 degrees. Lightly drizzle tortilla pieces with olive oil and a sprinkling of salt, and toss to coat evenly. Spread in a single layer on toaster oven tray or cookie sheet and bake for 12-15 minutes, or until crisp and golden brown.
Serve soup with crunchy tortilla strips and optional toppings in ramekins.
Recipe adapted from Minimalist Baker.