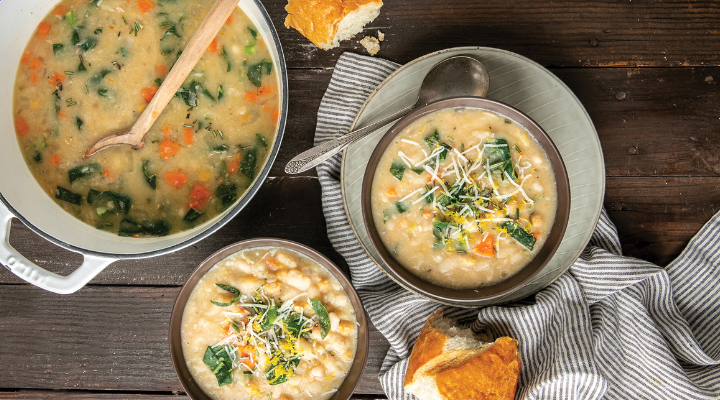 Contributed by
Taste of the South
Creamy Bean and Collard Greens Soup
Directions:
In a large Dutch oven, bring beans and 8 cups water to a boil over medium-high heat. Reduce heat to medium; gently boil beans until tender and most of liquid is evaporated, stirring occasionally, 45 minutes to 1 hour. Drain beans. Wipe out Dutch oven.
In the container of a blender, combine 2 cups cooked beans and 1 cup broth; process until completely smooth.
In the same Dutch oven, heat oil over medium heat. Add onion and carrot; cook until softened, stirring occasionally, 6 or 7 minutes. Add garlic, salt, and pepper; cook for 2 minutes. Add cooked beans, chickpeas, and rosemary. Stir in puréed bean mixture and remaining 5 cups broth. Bring to a boil; reduce to a simmer and cook, uncovered, until soup slightly thickens, 20 to 25 minutes. 
Stir in collards and cook for 20 minutes. Stir in lemon zest and juice. Gradually sprinkle in Parmesan, stirring constantly (don't add cheese all at once or it may clump). 
Garnish with additional rosemary, zest, and Parmesan, if desired. Serve with bread.
This recipe and image are from Taste of the South magazine.