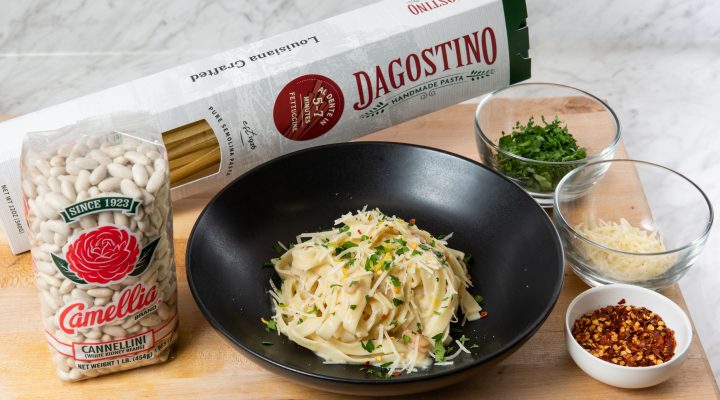 Contributed by
Chef Jamie Warrick
Creamy White Bean & Leek Fettuccine Alfredo
Directions:
Soak beans in 4 cups of cold water for 6 hours or overnight. Drain, rinse, and add beans to a medium-sized pot. Cover with 3 to 4 cups of fresh water. Bring to a boil, and lower heat to a simmer. Allow beans to simmer, partially covered with a tilted lid, for 1 ½ hours or until soft. Stir occasionally and add water, as necessary. Drain and set aside.
Bring a large Dutch oven of salted water to a boil over high heat. Add fettuccine and cook, stirring often, about 6 minutes. Drain, reserve 1/2 cup of cooking water for later use, and rinse fettuccine under cold water until cool. Transfer noodles to a bowl and toss with a tablespoon of oil to coat. Set aside.
To the same large Dutch oven, add remaining 1 tablespoon of oil and cook over medium-low heat. Add leeks and 1/2 teaspoon salt. Cook, stirring often, until softened, about 10 minutes. Add garlic and crushed red pepper; cook, stirring often, until fragrant, about 1 minute. 
Add beans (reserving 1/4 cup of beans to toss with pasta), broth, sage, and 1/2 teaspoon of the lemon zest (reserve the rest for garnish). Bring to a boil and then remove from heat. Use an immersion blender to blend till creamy.
Bring mixture back to a simmer and add lemon juice. Cook until thickened but still soupy, about 6 minutes. Stir in cream, Parmesan, and reserved 1/4 cup of beans. Add pasta and stir until heated through, about 2 minutes. If needed, add reserved cooking water for thinning. 
Serve sprinkled with remaining lemon zest, parsley, red pepper flakes, and more cheese, if desired.