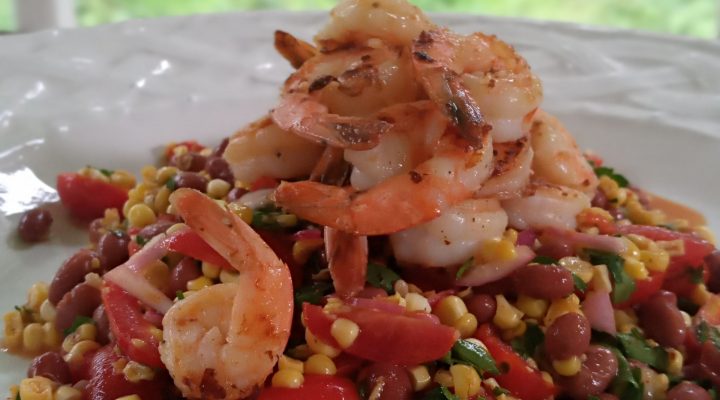 Contributed by
Chef Jennifer Booker
Grilled Corn, Shrimp and Pink Bean Salad
Directions:
Heat grill to 400° F.
In a small bowl, combine the shrimp, salt, pepper, garlic and vegetable oil; set aside.
In another small bowl, whisk together the lime juice, ground cumin, chili powder, paprika, salt and pepper. Pour in the olive oil in a slow, steady stream, whisking constantly. Adjust vinaigrette to taste and set aside.
Brush the ears of corn with vegetable oil. Place on the grill and cook until lightly charred, about 10 minutes. (Turn the corn often for even cooking.) Remove corn from the grill and allow to cool.
Place the shrimp on the hot grill. Cook until the shrimp are bright pink, about 3 minutes each side. Remove from the grill, loosely cover with aluminum foil and set aside.
Stand one ear of corn in a shallow bowl. Firmly holding the ear of corn at the top of the cobb, carefully cut down the corn cob with a sharp knife to remove the corn kernels. Repeat with remaining ears of corn.
Stir the beans, tomatoes, onion, cilantro and parsley into the bowl of corn and drizzle with the vinaigrette. Toss to evenly coat the vegetables.
Add salt and pepper to taste.
Transfer the corn salad to a serving platter and top with the grilled shrimp. Serve chilled or at room temperature.
Chef Jennifer Hill Booker is a Le Cordon Bleu-certified chef, cookbook author, reality TV personality, culinary educator, business owner and Georgia Grown Executive Chef for the Georgia Department of Tourism and Travel. She weaves her love of traditional Southern cuisine with her belief in incorporating healthy, seasonal foods and her classic French training.