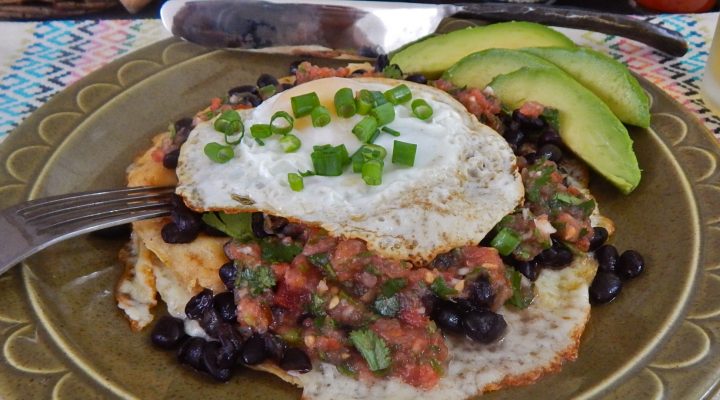 Huevos Rancheros
Directions:
Salsa
Combine the tomatoes, green onions, cilantro, lime juice, jalapeno pepper, 1 clove minced garlic, and salt to taste, together in a bowl until well blended.
Cover and refrigerate until needed.
Huevos Rancheros
Preheat oven to 375° F. Lightly grease a baking sheet.
Heat 1 teaspoon oil in a skillet over medium heat. Add garlic and cook 1 minute until light brown.
Add the black beans, chicken broth, and chiles; simmer until mixture is heated through, about 5 minutes. Turn off heat, cover and keep warm.
Place four tortillas on the prepared baking sheet. Sprinkle cheese over tortillas, and top with the remaining tortillas.
Cover the baking sheet with aluminum foil. Bake tortillas in oven about 5 minutes or until cheese melts.
Add oil to skillet, and heat over medium heat. Crack eggs into skillet, and fry to desired firmness. If the pan is hot enough, the whites should set, keeping the yolks centered, for a nice presentation. If the edges of the whites start to curl before the center is fully cooked, cover the pan for a minute or two.
When eggs are cooked, assemble the huevos rancheros. Place filled tortillas on four plates, and top each tortilla with black bean mixture, a layer of salsa, and an egg. If desired, garnish with chopped green onions and avocado slices. Serve immediately.