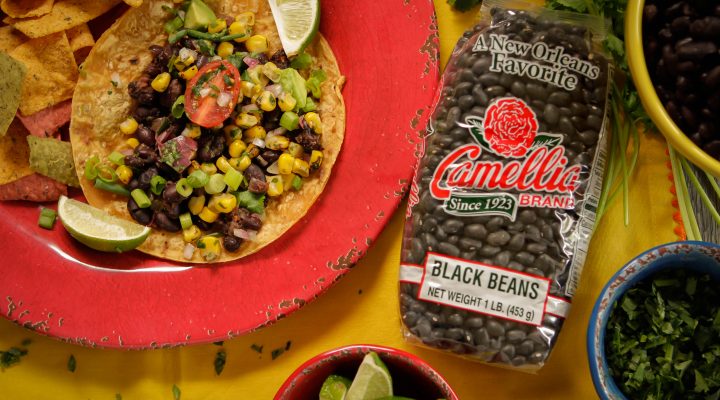 Jamaican Jerk Black Bean & Corn Salsa Tacos
Directions:
Heat oil in a skillet over medium heat. Add red onion and cook for 4-5 minutes.
To the skillet, add cooked beans, jerk seasoning blend, garlic powder, lime juice and water or bean-cooking liquid. Cover and simmer for 7-8 minutes. Taste and adjust seasonings, and add more water or bean-cooking liquid if mixture is dry.
Cook ears of corn over a grill or a gas flame until roasted to your preference. Cut corn kernels off cob. Or, add frozen corn to a heavy-bottomed skillet over high heat. Cook until kernels have browned, stirring occasionally, 6-8 minutes.
Cool corn and add to a bowl with chopped red onion, cilantro, and halved grape tomatoes. Season mixture to taste with salt, pepper, cayenne and lime juice.
Warm tortillas by wrapping in aluminum foil and heating in a 350° oven for 15-20 minutes. Or, heat individual tortillas over a gas burner flame, using tongs to flip and slightly char each side.
Add bean mixture and corn salsa to warmed tortillas and add toppings as desired. Serve immediately.
Recipe adapted from veganricha.com.