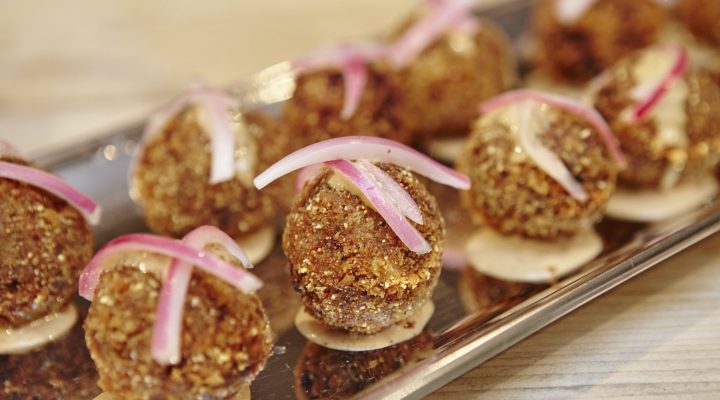 Contributed by
Jay Ducote
Jay Ducote's Red Beans and Rice Balls
Directions:
Soak beans overnight and reserve soaking liquid.
In a large, heavy-bottom pot over medium-high heat, add canola oil and smoked sausage. Brown the sausage until fat is rendered, about 10 minutes.
Add onion, bell pepper, celery, and garlic to the pot; sauté until onions are wilted but not brown, about 10 minutes.
Add the beans with the soaking liquid and stir. Bring everything up to a boil.
Add Slap Ya Mama Cajun Seasoning and bay leaves, stir and reduce heat.
Simmer at least 1 hour, stirring regularly; beans should have a thick, creamy consistency. Smash beans on the side of a pot with the back of a spoon if needed to thicken.
Remove from heat and allow to cool. Refrigerate overnight.
The next day, cook rice with kosher salt according to package instructions.
Fold cooked rice into the red bean mixture. Refrigerate at least 2 hours.
When ready to fry, whisk milk and eggs together for egg wash.
Place flour in one shallow pan. In another shallow pan, combine Slap Ya Mama Fish Fry and Panko bread crumbs.
In a cast iron Dutch oven, heat frying oil to 350 degrees.
Form the red bean and rice mixture into golf-ball sized balls. Roll red bean and rice balls in flour, then in egg wash, and then toss and coat them in the bread crumb mixture. Place in frying oil in batches.
Fry for 3-4 minutes per batch until golden brown. Drain on paper towels.
Serve hot with BBQ Aioli and Pickled Red Onions.
For more recipes by Jay Ducote visit www.JayDucote.com
Photo ©️ Fortunato M. Ramin