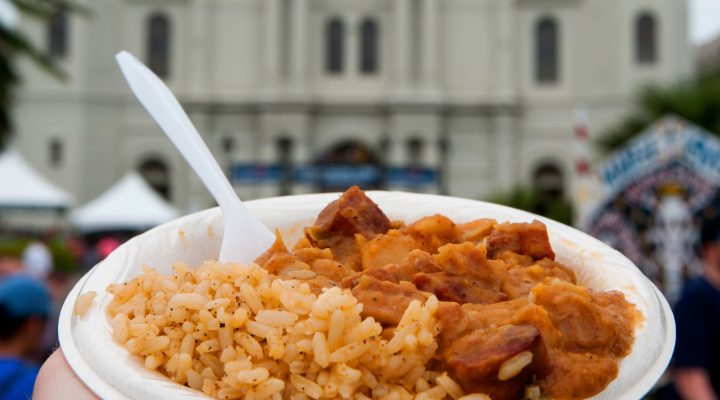 Contributed by
Chef Paul Prudhomme
K-Paul's Famous Butter Beans 'That Make You Crazy'
Directions:
Remove visible fat from duck (or chicken) and sprinkle evenly with 1 tablespoon Poultry Magic®, patting it in.  In a paper bag, mix flour with 1 tablespoon Poultry Magic®. Dredge duck pieces in the flour. Shake off excess. Put remaining flour aside.
Heat 3/4-inch chicken fat in a large skillet to 350°. Fry the duck (skin side down and large pieces first) in the hot oil until brown, 3-6 minutes per side. Be sure oil stays at 350°. Drain on paper towels, Set aside skillet with oil.
Place the duck pieces in a large ungreased roasting pan. Bake at 375° until tender, about 40 minutes.
Meantime, season the pork and lamb chops with 1 1/2 teaspoons Meat Magic®. Dredge in the reserved seasoned flour. Reheat the oil to 350°. Brown the pork, lamb, ham (if used) and andouille, about 2 minutes per side. Drain on paper towels and set aside.
When the duck is tender, remove pan and stir to loosen any sediment sticking to the pan bottom. Add the stock, tomatoes, onions, bell peppers, celery, garlic and 1 tablespoon Meat Magic® to the pan. Stir well. Add the drained beans, pork, lamb, tasso and andouille; stir until well mixed and most of the beans are in the liquid. Return to oven and continue baking until the beans and the duck are tender, about 1 1/2 hours, stirring every 15 minutes or so, and more often toward the end of cooking time. Adjust seasoning with Meat Magic®. Serve immediately with rice.
K-Paul's Butter Beans are a favorite dish of New Orleans' French Quarter Festival. Original recipe from K-Paul's Louisiana Kitchen.