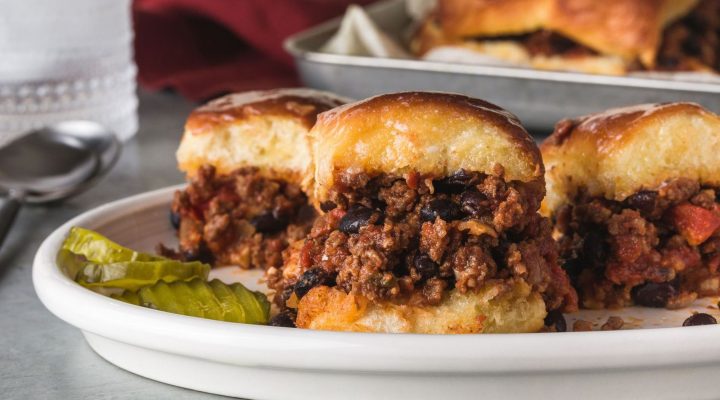 Contributed by
CooksWithSoul
Kid-Friendly Beef & Bean Sloppy Joe Sliders
Directions:
Preheat the oven to 400°F.
Line a baking sheet with parchment paper and set it aside.
To a skillet over medium-high heat, add ground beef and season with salt. Break up the meat with a spatula and continue cooking, stirring occasionally, until completely browned.
Add chili powder, onion and garlic, and stir to combine. Cook until onions are softened and translucent, about 5 minutes.
Add in tomato sauce, Worcestershire sauce, and brown sugar.
Gently stir in cooked black beans and reduce heat to low.
Allow beef and bean mixture to simmer until thickened, about 3 minutes.
Cut dinner rolls in half and set the bottom half on the prepared baking sheet. Top the bottom half of the rolls with the beef and bean mixture, and top with the other half to make sandwich sliders.
Brush the tops of the sliders with melted butter, and bake in the oven for 5 minutes, or until the rolls are warmed through and golden brown around the edges.
Cut into individual sliders and serve warm.
Krysten is a Maryland-based recipe developer and photographer. She is also one-half of the popular food blog, Cooks with Soul, where she and her husband, Marrekus, publish recipes and digital content. When she's not busy with her food blog and photography business, she works part-time as a behavior analyst with kids who have autism and related disorders. Krysten is a mom of three and a self-proclaimed cheer mom, football mom, and special needs parent.