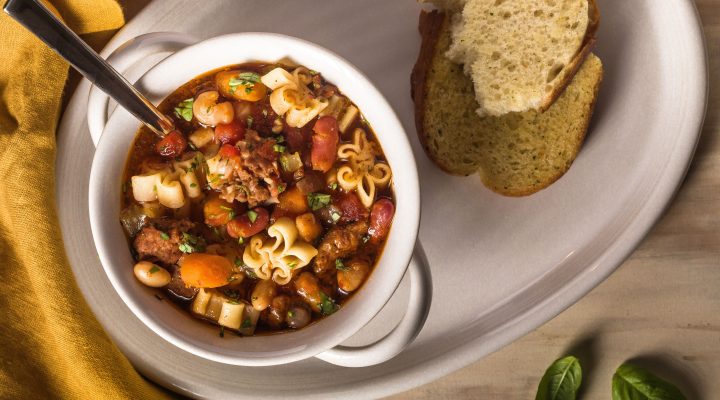 Contributed by
CooksWithSoul
Kid-Friendly Instant Pot Pasta Fagioli
Directions:
Rinse and sort beans. Cover and soak beans in water for at least 4 hours or overnight.
Preheat the inner pot of an electric pressure cooker using the Sauté setting on Normal.
Add ground sausage and break up the meat with a spatula, stirring occasionally. Continue cooking until sausage is browned, about 6-8 minutes.
Add onions and garlic and continue cooking until the onions are softened and translucent, about 5 minutes more.
Drain water off soaked beans and add beans to the pressure cooker.
Add chicken broth, tomato sauce, celery, carrots, salt, and Italian seasoning.
Lock the lid of the pressure cooker in place, and set the steam vent to Seal.
Select Pressure Cook (Manual), and cook for 15 minutes on High Pressure.
Press Cancel and allow pressure to release naturally before carefully removing the lid.
Stir cooked pasta into soup.
Season to taste, and top with fresh chopped basil and Parmesan cheese, if preferred.
Krysten is a Maryland-based recipe developer and photographer. She is also one-half of the popular food blog, Cooks with Soul, where she and her husband, Marrekus, publish recipes and digital content. When she's not busy with her food blog and photography business, she works part-time as a behavior analyst with kids who have autism and related disorders. Krysten is a mom of three and a self-proclaimed cheer mom, football mom, and special needs parent.