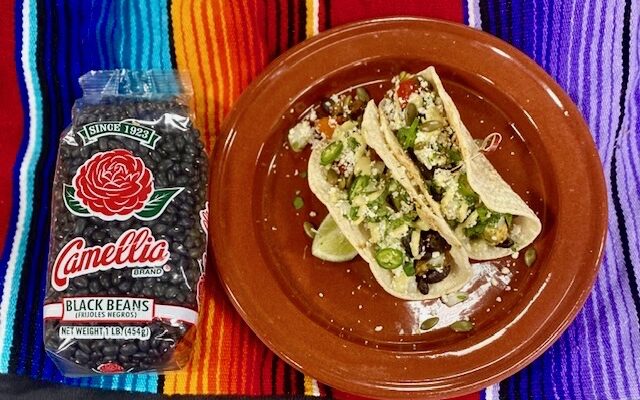 Contributed by
Chef Jamie Warrick
Meatless Tacos with Spicy Avocado Crema
Directions:
For the Tacos, rinse, sort, and add beans to a medium-sized pot. Cover with 3 to 4 cups of fresh water. Bring to a boil, and lower heat to a simmer. Allow beans to simmer, partially covered with a tilted lid, for 1 - 1 ½ hours or until soft. Stir occasionally and add water as necessary. Drain and set aside.
Preheat the oven to 400° F and line a sheet pan with parchment paper. Place zucchini, butternut squash, red pepper, and tomatoes on parchment paper. Drizzle with olive oil, cumin, chili powder, smoked paprika, oregano, and pinches of salt and pepper, and roast until golden brown around the edges, about 25-30 minutes.
For the Spicy Avocado Crema, blend yogurt/sour cream, avocado, lime juice, cilantro, Valentina hot sauce, and a pinch of salt in a mixing bowl. Chill until ready to use.
Assemble tacos with toasted tortillas, black beans, roasted vegetables, diced avocado, cilantro, onion, serrano, cotija, if using, and generous drizzles of Spicy Avocado Crema. Serve with extra crema on the side.