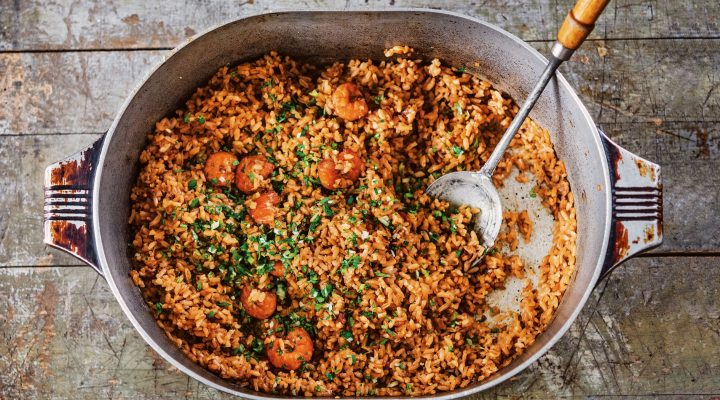 Contributed by
Chef Melissa Martin
Mosquito Supper Club Shrimp Jambalaya
Chef Melissa Martin serves this jambalaya with white beans and fried seafood, all on one plate, with a summer salad of cucumbers, tomatoes and pickled okra on the side. This recipe and photo are excerpted and adapted from Mosquito Supper Club: Cajun Recipes From A Disappearing Bayou, by Melissa Martin (Artisan Books ©2020). Photographs by Denny Culbert. Chef Melissa's restaurant, Mosquito Supper Club, celebrates authentic Cajun cuisine with family style dining in a repurposed historic house in New Orleans, Louisiana.
Directions:
Warm a heavy-bottomed 12-quart Dutch oven over medium heat for 3 minutes, then add oil and heat for 1 minute.
Add onions to pot and stir, stir, stir. This starts the very long process of browning the onions. Cook onions for 1 hour to 1 hour 30 minutes, depending on how hot your stove runs, watching them very closely and stirring every 2 minutes. If the onions start to stick too much, add a little bit of water or stock to loosen them, then stir to incorporate the browner onions and scrape up any stuck-on bits from the bottom of the pot. Stir, stir, stir. If you're worried about burning, lower the heat. You really don't want to walk away from the pot at any point. This is your time with your onions. All the other steps will be easy. Stir, stir, stir until the onions are deeply caramelized and resemble dark chocolate in color.
Place shrimp in a large bowl and season with salt, black pepper, cayenne and hot sauce. Set aside to marinate at room temperature.
Add celery, bell pepper and bay leaves to the pot and stir. Cover, reduce the heat to low, and cook for 15 minutes, stirring every 5 minutes.
Add rice to the pot and stir to combine with vegetables. Raise heat to medium and cook, uncovered, letting the flavors mingle and marry, for 5 minutes. Add shrimp and stir to incorporate them.
Add stock to the pot and bring to a boil, then reduce heat to low and simmer until the liquid has almost completely evaporated or looks like little puddles of water, 8 to 10 minutes. When you're at the point of puddling – this is a judgment call based on temperature, pot size, and your stove – put the lid on the pot and reduce the heat to its lowest setting. (From here, the cooking time is going to be 45 minutes total, and you can't remove the lid the entire time. This is a tough, long 45 minutes. But trust yourself. You'll want to peek, but don't.)
Set a timer for 20 minutes, keep the pot covered, and allow rice to cook. When timer goes off, turn off heat and let the jambalaya sit, covered, for another 25 minutes before you lift the lid. (You might want to make a note and place it near the stove: "Please do not lift the lid off the pot." This lets everyone in your home know you did not stir onions for over an hour just to have someone uncover the pot and ruin your dish.)
After the 20 minutes of cooking and 25 minutes of sitting, uncover the pot and stir the jambalaya. (There may be a little burnt rice on the bottom – this is called the "grat" or "gratin." It's some folks' favorite part of the jambalaya.)
Serve jambalaya garnished with parsley and green onions, with white beans alongside.
Chef's Notes:
Bay leaves are seasoning and not meant to be eaten, but it makes for a beautiful, rustic presentation to leave them in the jambalaya; if you find a bay leaf in your plate of jambalaya, just set it on the side of your plate.
If you like, you can add meat to a jambalaya: salt pork, smoked sausage, or andouille. You can make jambalaya with oysters and crabmeat and crawfish. You can make a duck confit jambalaya; you can save leftover chicken and make a chicken-and-sausage jambalaya. Use this recipe as a base to create your own. 
This recipe and photo are excerpted from Mosquito Supper Club by Melissa Martin (Artisan Books).