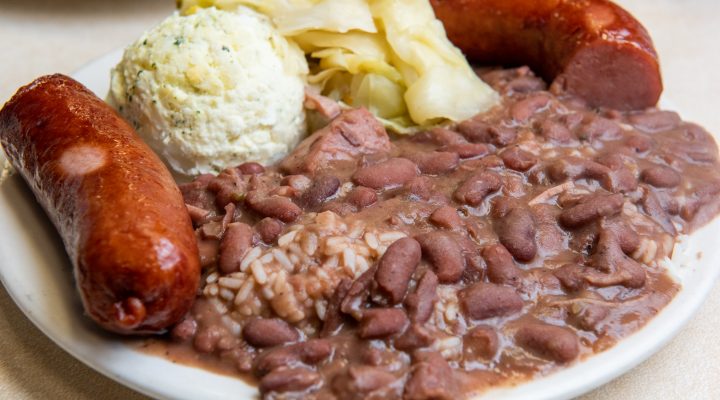 Contributed by
Mother's Restaurant
Mother's Red Beans
Directions:
In a large, heavy pot, render the ham fat over low heat, stirring occasionally until the fat is liquid, and the remaining flesh is crisp and brown (these are the cracklins).
Remove cracklins and set aside for another use.
Sauté chunks of ham and sausage in the rendered ham fat.  
Add diced onions, bell peppers, and green onions to the pot. Sauté until tender. 
Add garlic, salt, pepper, thyme, and bay leaves to the pot. 
Add red beans and stir to combine. 
Add stock and ham bone. 
Bring to a boil, then reduce heat and simmer until beans are tender.
Serve over rice.
Mother's Restaurant opened its doors in 1938 on Poydras Street's "Restaurant Row", situated between a thriving waterfront and the courthouse. Owners Simon and Mary (Mother) Landry and his large family cooked up po' boys for lines of longshoremen and laborers, newspapermen and attorneys. During and after World War II, Mother's became a local hang-out for "the few and the proud" – the U.S. Marine Corps. You'll find plenty of locals rubbing elbows in line with visitors, veterans, politicians and movie stars. Mother's remains true to its working class origins. Nobody gets treated better (or worse) than anybody else. As Jerry Amato says, "Everybody gets fed. Everybody comes back."