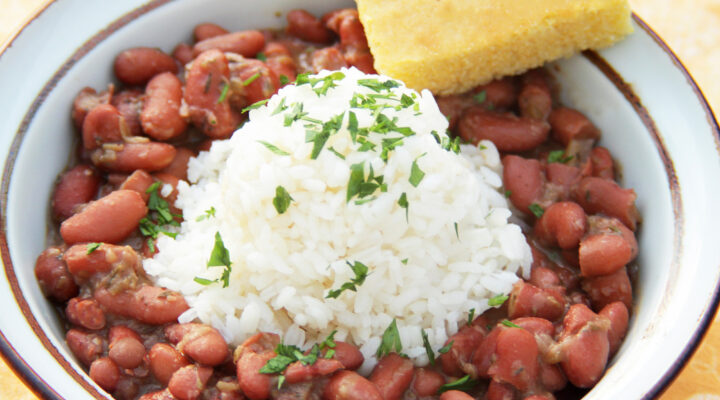 New Orleans-Style Red Beans & Rice
Directions:
Rinse and sort beans. (Optional: Soak beans using your preferred method.)
Place beans in a large stew pot and cover with chicken broth. If needed, add fresh water so that mixture is a ratio of 1 part beans to 2 parts liquid.
Bring the beans to a rolling boil, then lower heat, and simmer for 1-2 hours, or until tender. Stir often, (so that beans don't stick to bottom of pot) and add water as needed. 
Brown the meat in a skillet. Remove meat and set aside. In the drippings in skillet, sauté onions, celery, parsley and bell pepper until tender. Add the garlic and saute for 2 minutes, stirring occasionally. Add meat, sautéed vegetables, bay leaf and thyme to the beans. Water should cover all.
Continue to simmer for 1-3 hours, until beans are tender and creamy (continue to stir and avoid burning on bottom of pot).
To make creamier beans, remove 2 or 3 cups of beans from the pot, puree them with a mixer or blender, and return to pot. Add hot sauce, salt, pepper and/or Creole seasoning to taste.
 Serve over rice.