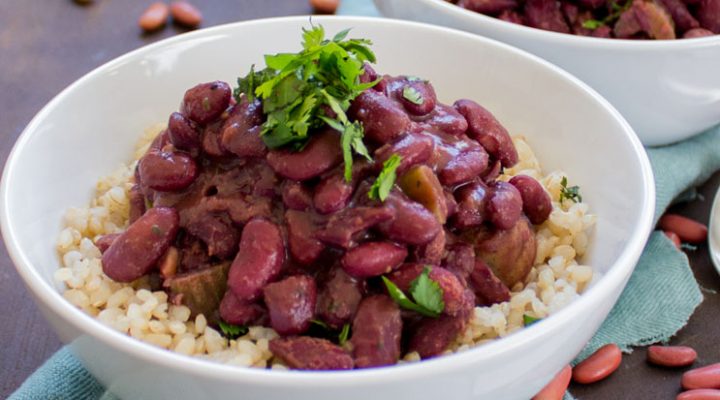 Contributed by
Jenné Claiborne
New Orleans-Style Vegan Red Beans & Rice
Directions:
Heat a couple of tablespoons of oil in a heavy bottomed pot. If you're oil-free, warm some water to sauté.
Add the celery, onion, and garlic, and sauté for a couple of minutes. Add a pinch of salt in there, too.
Add the beans, followed by 10 cups of water.
Bring to a boil, then add the kombu, bay leaves, and thyme.
Reduce to medium low heat to simmer for about 45 minutes. Check halfway through to skim off any foam that may form on the top.
While the beans are cooking, make your rice by following the package instructions (brown and white have different instructions).
This is also a good time to fry your vegan Field Roast sausage in a couple of tablespoons of oil.
When the beans have finished cooking (taste a bean to make sure), remove them from the heat, and stir in the bouillon, smoked paprika, liquid smoke, and Cajun seasoning.
Add another bouillon cube if you want it saltier (I usually do 2 cubes).
Stir in the vegan sausage.
Serve over rice, and garnish with parsley.
Jenné Claiborne of  Sweet Potato Soul is a vegan lifestyle blogger who shares delicious and easy-to-make recipes, cooking videos, and healthy eating tips.