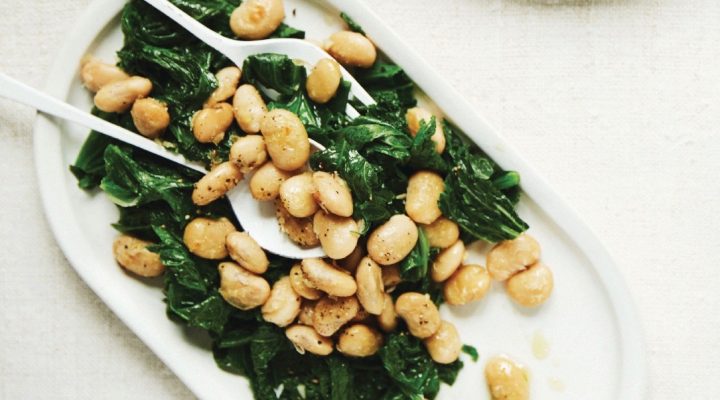 Contributed by
Jenné Claiborne
Pan Fried Butter Beans & Greens
Directions:
1. Warm 2 tablespoons of grapeseed oil in a large skillet on medium heat.
2. Add the garlic to the oil, and fry until it begins to turn golden, about 30 seconds. Be very careful not to burn it.
3. Add the beans, and stir. Cook until they begin to char and brown.
4. Remove the beans with a slotted spoon, leaving as much of the garlic behind as possible. Set the beans on a plate.
5. Add the mustard greens and ¼ cup of water to the skillet, and stir. Cook until the greens are tender, about 10 minutes on medium heat.
6. Season to taste with salt—start with ¼ teaspoon—and pepper. Serve the greens topped with the pan-fried butter beans.
Adapted from Sweet Potato Soul. Copyright © 2018 by Jenné Claiborne. Photographs copyright © 2018 by Sidney Bensimon. Published by Harmony Books, an imprint of the Crown Publishing Group, a division of Penguin Random House LLC.