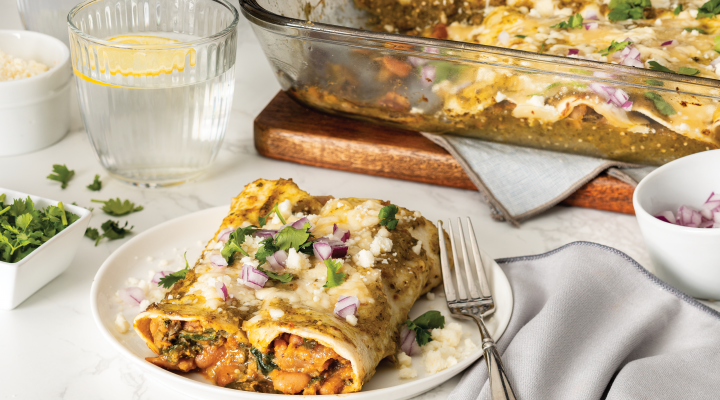 Contributed by
Taste of the South
Pinto Bean and Kale Enchiladas with Spicy Tomatillo Salsa
Directions:
Enchiladas
Preheat oven to 375°.
Spread 1¾ cups Spicy Tomatillo Sauce in the bottom of 2 (13x9-inch) glass baking dishes. Pour remaining sauce in a medium bowl.
In a small bowl, toss together 14 ounces shredded quesadilla cheese and the Monterey Jack cheese.
Brush one side of each tortilla with Spicy Tomatillo Sauce. Working with one at a time, spoon ¼ cup Pinto Bean Filling down the center of the sauce side of tortilla. Sprinkle with about 1 tablespoon shredded cheese mixture. Roll tortilla around filling and place seam-side down in the sauce in the prepared baking dish. Repeat process with remaining tortillas, filling, and cheese mixture until each baking dish contains 12 enchiladas. Spread any remaining Spicy Tomatillo Sauce on top of enchiladas. Cover with foil, and bake until sauce is bubbling, 20 to 30 minutes.
Remove from oven and uncover. Top with remaining 14 ounces shredded quesadilla cheese. Bake until cheese is melted and lightly golden, about 15 minutes more. Sprinkle top of each dish with ¾ cup crumbling cheese. Garnish with cilantro and red onion, if desired.
Spicy Tomatillo Sauce
Preheat oven to 500°. Line a large, rimmed baking sheet with foil.
In a small bowl combine oil, garlic and salt.
Place tomatillos and onion on prepared sheet. Toss with half of the oil mixture. Bake 8 inches from heat for 10 minutes. Remove from oven, turn vegetables, and bake for 8 minutes more. Transfer mixture, along with liquid, to a blender and let stand for 30 minutes.
Using same baking sheet, toss peppers with remaining oil mixture and bake for 10 minutes. Remove from oven and turn peppers. Bake until peppers are blistered, 5 to 9 minutes more. Remove from oven and place peppers in a large resealable plastic bag; let stand until cool enough to handle, about 20 minutes.
When peppers are cool enough to handle, gently remove stems, seeds and skins. Set aside 3 poblano peppers for Pinto Bean Filling.
Add remaining peppers to tomatillo mixture in blender and process until smooth. Add cilantro and cumin and process until blended. Set aside 1 cup Spicy Tomatillo Sauce for Pinto Bean Filling.
Pinto Bean Filling
In a medium Dutch oven, add beans and cover with 2 inches water. Bring to a boil over high heat. Remove from heat, cover with lid, and let stand for 1 hour. Drain beans and return them to Dutch oven; add vegetable broth. Bring to a boil over medium-high heat; reduce to a simmer and cook, covered, until beans are tender, about 1 hour and 30 minutes.
Drain beans, reserving 1 cup liquid, and remove from Dutch oven. Place 2 cups beans and 1 cup reserved liquid in the container of a blender; process on medium-low until smooth, about 1 minute.
In same Dutch oven, heat oil over medium heat. Add onion and garlic; cook until tender, about 4 minutes. Add kale and ¼ cup water; cook until kale is wilted, 2 to 3 minutes.
Stir in cooked beans, reserved Spicy Tomatillo Sauce, reserved chopped poblanos, salt, chili powder, cumin, paprika and blended beans. Cook until kale is slightly tender, about 4 minutes more. Use immediately or let cool and store in an airtight container in refrigerator until ready to use.