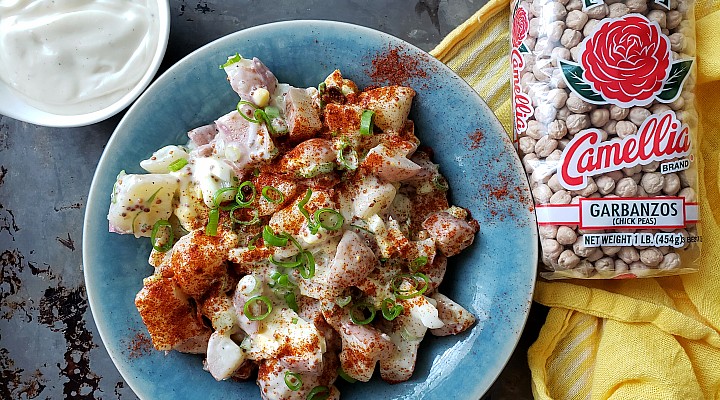 Potato Salad with Chickpea Aquafaba Mayo
Directions:
Make Aquafaba Mayonnaise:
Combine aquafaba, mustard, vinegar, pepper and salt in a small mason jar (or the jar that often comes with an immersion blender).
Add oil on top and allow to sit and separate for at least 2 minutes.
Using an immersion blender placed all the way down toward the bottom of the jar, blend for 25 seconds, or until you see the mayonnaise beginning to fluff up and form.
Slowly raise the immersion blender to the top of the jar until the mixture is consistent (like mayonnaise).
Turn off the immersion blender before removing it from the jar.
Make Potato Salad:
Clean and trim potatoes, keeping skins but removing any eyes. In a medium pot, place potatoes, cover with water, salt the water liberally and bring to a boil. Cook until fork-tender, about 15 minutes.
Remove potatoes from water and set aside to cool; drizzle them with vinegar.
Chop cooled potatoes into ¼-inch pieces.
Place potatoes, aquafaba mayo, mustard, scallions and basil in a medium bowl and mix until combined. Fold in chopped egg, if desired.
Garnish with paprika and serve immediately. (Potato salad can be covered and stored in refrigerator for up to 3 days.)