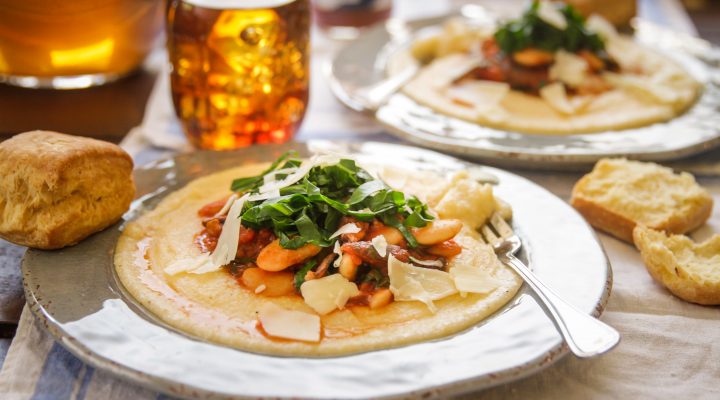 Contributed by
Crescent Dragonwagon
Ragout of Shiitake Mushrooms, Butter Beans & Southern Greens
This is an updated combination of some of the best-loved tropes of Southern cooking and can be made with blackeye peas or navy beans – it's good with any bean. It's perfect served over cheese grits.
Directions:
Put a large pot of water, covered, on to boil over high heat.
Spray a large skillet with oil (unless it's non-stick). Place the skillet over medium heat and add the olive oil. When the oil thins slightly, add the shiitakes and sauté until they start to soften, about 3 minutes. Stir in the garlic and cook, stirring until the mushrooms start to stick to the skillet, a few minutes more.
Add the cooked butter beans and the tomato sauce to the skillet, turn the heat to very low, and heat through, stirring occasionally. Taste and correct the seasonings with salt and pepper, maybe a drop of honey. Remove from the heat.
When the water is boiling, drop in the sliced greens and blanch them quickly, just until they get limp and their color brightens. (The blanching process is very quick, but timing varies depending on the tenderness of the green and how thin it is sliced. Chard will be done almost instantly; collards may take 40 seconds.) Carefully drain the greens in a colander (save the blanching water for stock, if you like) and quickly pour cold water over them to stop the cooking.
Stir about one quarter of the blanched greens into the hot mushroom ragout, reserving the remainder.
Serve as follows: A big ladleful of grits goes in the center of the plate, with the middle slightly hollowed to make a nest for a good-size spoonful of the ragout. Top the ragout with a little tangle of the bright green blanched greens, and add shaved Parmesan.
Crescent Dragonwagon is the much-published author of fifty books in five genres, numerous magazine articles, and two blogs. This recipe comes from her cookbook Bean by Bean, a 175-plus recipe cornucopia overflowing with information, kitchen wisdom, lore, anecdotes, and a zest for good food and good times.