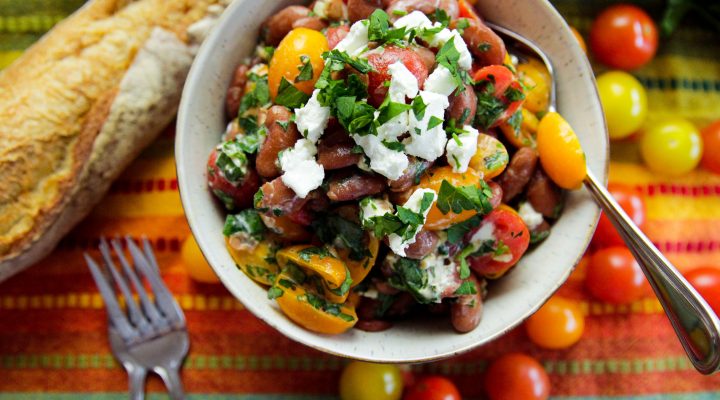 Contributed by
Molly Kimball, RD
Red Bean & Goat Cheese Mediterranean Salad
Instead of the feta traditionally used in Mediterranean-style salads, this recipe uses goat cheese, for about 75% less sodium.
Directions:
Rinse beans in a colander. Use the 1-hour Quick Soak method.
Place soaked beans in a large pot, and cover with water or broth. Add salt and pepper to taste. Bring to a boil; reduce heat and simmer gently, uncovered, stirring occasionally for 1 1/2 hours, until tender, adding more water or broth as necessary.
Drain and refrigerate beans until ready to use.
In a large bowl, combine beans, parsley, tomatoes and garlic. Add olive oil, lemon juice, salt and pepper. Mix well and refrigerate until ready to serve.
Stir in crumbled goat cheese and serve on a large platter. Or, spoon into individual dishes topped with crumbled goat cheese.
Per serving: 385 calories, 15 grams fat, 5 grams saturated fat, 375 mg sodium, 44 mg carbohydrate, 12 grams fiber, 6 grams sugar (0 added sugar), 22.5 grams protein
Molly Kimball, RD, CCSD is a Sports and Lifestyle Dietician and Board Certified as a Specialist in Sports Dietetics. She's a columnist for The Times-Picayune/NOLA.com, covering the latest trends in the nutrition and fitness industries and developed Eat Fit NOLA, a free partnership between Ochsner Health System and more than 50 New Orleans restaurants to develop and identify healthy menu items.