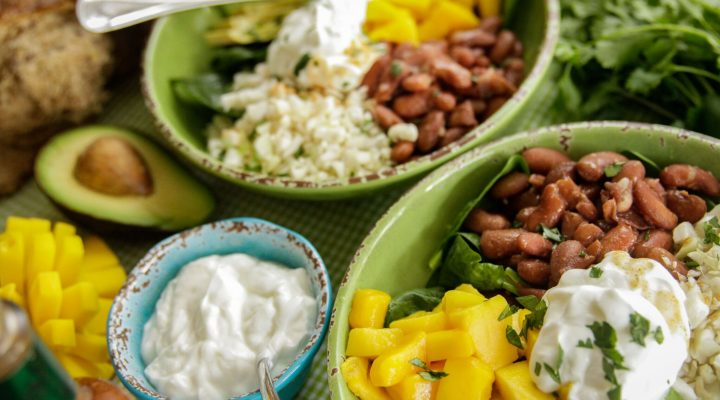 Contributed by
Molly Kimball, RD
Red Bean Power Bowl
Centered on a rainbow of nutrient-rich ingredients, everything but the red beans is raw, making it a cinch to toss together in no time. Consider this your go-to solution for lunch or dinner in a flash. Making a bowl for one? Prepare beans ahead of time.
Directions:
Rinse beans in a colander. Use the 1-hour Quick Soak method.
Place soaked beans in a large pot and cover with water or broth. Add salt, pepper and other seasonings to taste. Bring to a boil; reduce heat and simmer gently, uncovered, stirring occasionally for 1 1/2 hours, until tender, adding more water or broth as necessary.
Drain and refrigerate beans until ready to use.
To prepare Red Bean Power Bowl, layer or compartmentalize all ingredients in bowls, starting with greens, followed by riced cauliflower, beans, mango, and avocado. Add a squeeze of lime, chopped cilantro and hot sauce. Dollop with Greek yogurt and serve.
Per serving: 325 calories, 8.5 grams fat, 2.5 grams saturated fat, 117 mg sodium, 47 grams carbohydrate, 12 grams fiber, 19 grams sugar (0 added sugar), 22.5 grams protein
Molly Kimball, RD, CCSD is a Sports and Lifestyle Dietician and Board Certified as a Specialist in Sports Dietetics. She's a columnist for The Times-Picayune/NOLA.com, covering the latest trends in the nutrition and fitness industries and developed Eat Fit NOLA, a free partnership between Ochsner Health System and more than 50 New Orleans restaurants to develop and identify healthy menu items.