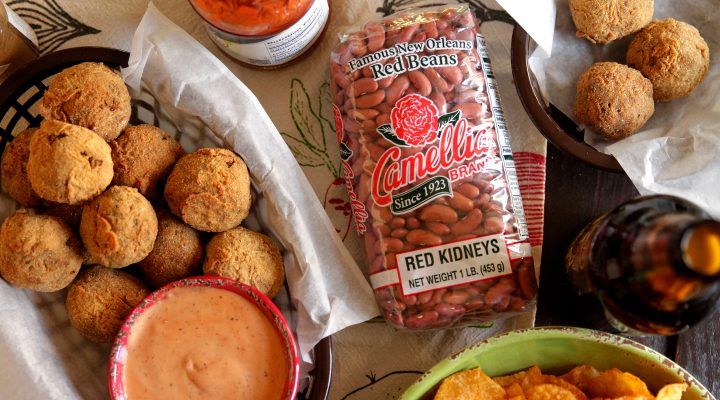 Red Beans and Rice Boudin Balls with Dipping Sauce
Directions:
In a large saucepan over medium heat, brown ground pork. Add seasoning blend, salt, pepper, Cajun seasoning and garlic powder, and simmer until tender. Add water and continue to simmer for 5 minutes. Remove from heat.
In a separate skillet, brown smoked sausage. Set aside.
In a large bowl, combine pork mixture, rice, parsley, green onions, smoked sausage, and cooked red beans. Refrigerate to cool completely.
Use a portion scoop to form 1-inch balls.
Whisk eggs in a small bowl. Place corn flour in a separate bowl.
Roll each ball in corn flour, and then dip in egg wash. Then roll each ball in corn flour again.
Place balls in refrigerator for 30 minutes or until firm.
Heat oil to 360 degrees. Fry balls for approximately 10 minutes, and drain on a paper towel-covered plate.
Mix all dipping sauce ingredients together, and serve alongside boudin balls as an appetizer.