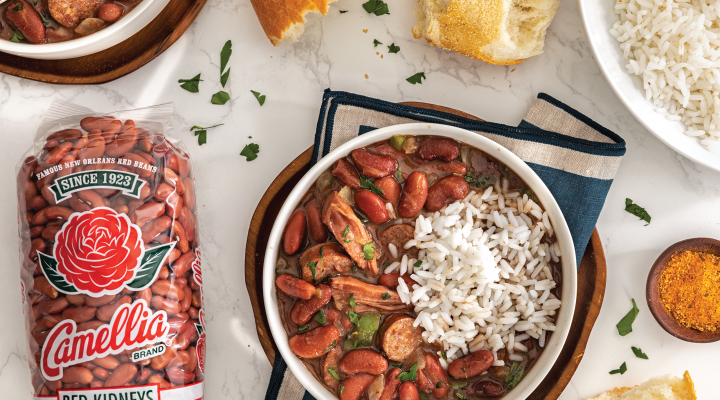 Contributed by
Taste of the South
Red Beans and Rice with Smoked Ham Hock and Sausage
Directions:
Heat the oil in the work bowl of an electric pressure cooker* set to the highest sauté setting. Working in batches, cook sausage, stirring frequently, until crisp and browned, about 4 minutes. Using a slotted spoon, carefully remove sausage and let drain on paper towels, reserving drippings in cooker. Add celery, onion, bell pepper and garlic; cook, stirring occasionally, scraping bits from bottom of pan, until just tender, about 2 minutes.
Add beans, stock, Creole seasoning, parsley, bay leaves and thyme, stirring until well combined. Add ham hocks. Lock lid of cooker and confirm valve is set to seal. Set cook time to 55 minutes on high pressure. When finished cooking, allow pressure to release naturally.
Using tongs, carefully transfer ham hocks to a cutting board and remove meat, discarding bones, skin and cartilage. Return ham and sausage to cooker, stirring until well combined. Discard bay leaves. Garnish with parsley and thyme, if desired, and serve with hot cooked rice and bread.
*We used Instant Pot®.