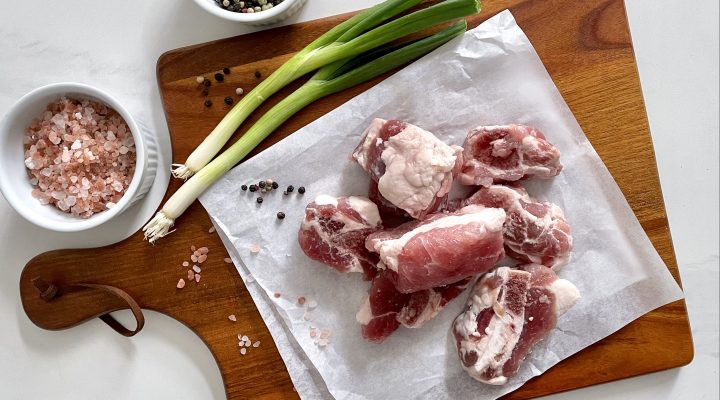 Contributed by
Amelia Labeaud of RollingWithMelia
Red Beans with Pickled Pig Tips
Directions:
For the pickled tips, rinse tips and add to a large pot of water, making sure tips are submerged. Bring to a boil and cook for 35 minutes. Drain water from pot, rinse tips again, and repeat the process -- adding tips to a large pot of fresh water and boiling for an additional 20-30 minutes until tips are tender. Strain and set aside.
For the beans, rinse and sort beans.
Chop all fresh vegetables, combine, and set aside.
Slice sausage and set aside.
Add rinsed beans to a 6-quart pot, and fill halfway with water. Add ½ of chopped fresh vegetable mixture, bay leaves, and salt to the pot. Bring to a boil.
Add Creole Red Bean Seasoning and stir.
Boil until most of the water has been absorbed or evaporated, then add fresh water, filling the pot halfway. Return to a boil, reduce heat, and simmer.
To a separate large pot, add oil.
Once the oil is hot, add the rest of the chopped fresh vegetable mixture, and cook until onions are transparent. Add sliced sausage, prepared pickled tips, onion powder, garlic powder, and stir.
Cook until sausage and pickled tips are lightly browned, then add the entire mixture to the pot of beans.
Bring the pot of beans back to a boil.
Add hot sauce to beans, reduce to a simmer, cover, and cook down for 20-30 minutes, stirring occasionally to prevent sticking.
When beans are creamy, add butter and continue to simmer for 10-15 minutes more.
Serve beans over a bed of jasmine rice and enjoy! Thank me later.