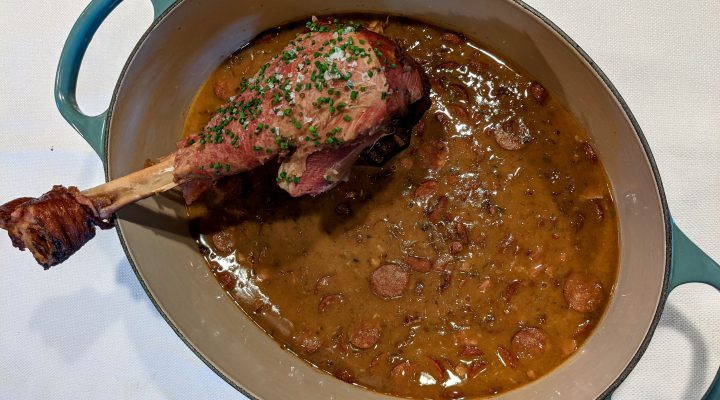 Red Beans with Smoked Turkey Legs
Directions:
In a Dutch oven or other large pot, heat the vegetable oil over medium-high heat.
When the oil begins to shimmer, add the ham hock and pig tail. Sear them for a minute on each side (turn over with tongs), then remove to a bowl and set aside.
Reduce heat to low and add andouille sausage and tasso to pot. Cook on low heat for 10 minutes, stirring occasionally with a wooden spoon, to render the fat out of the meat.
Increase heat back to medium high; continue to cook and stir the andouille and tasso until lightly browned, about 6 minutes. Remove from the pot with a skimmer or slotted spoon and transfer to a bowl; set aside.
Set the heat to medium and add the onion, bell pepper, celery and unsalted butter into the pot. Cook and stir, scraping up and stirring in the fond (the browned, crispy residue that forms in the pot from cooking the meats). Cook the vegetables until they become darker and translucent, about 7 minutes.
Add the garlic, thyme, parsley and bay leaves; cook and stir for 30 seconds.
Add the soaked (and drained) beans to the pot and stir until everything is incorporated, about 1 minute.
Add the andouille, tasso, ham hock and pig tail to the pot and stir for 3 minutes. Add the 2 turkey legs.
Add the stock and set heat to high. Bring the beans to a boil for 10 minutes, then reduce heat to low, cover the pot and simmer for 2 hours or until the beans are tender.
When the beans are fully cooked, remove ¼ of the beans into a mixing bowl and mash them with a potato masher until a thick paste forms.
Remove the ham hock, pig tail and turkey legs from the pot. Set the turkey legs aside (keep warm) to serve plated with beans later. Remove the small amounts of meat from the bones of the ham hock and pig tail and return the meat to the pot.
Return the mashed beans into the pot and stir well until fully incorporated.
Stir in the cane vinegar and hot sauce.
Continue to simmer uncovered until desired consistency is reached. For soupy beans, 1 hour of simmering should be enough. For thicker beans, simmer for at least 1 and a half hours.
Serve the beans over hot cooked rice, garnished with chopped chives or scallions, with turkey legs and cornbread muffins on the side.
Chef Isaac Woo of Catahoula Catering in Denver, Colorado is a Louisiana native whose mission is to bring authentic, expertly prepared Cajun and Creole dishes to social events large and small. He is a graduate of Louisiana State University in Baton Rouge, which means he knows how to throw a really good party.