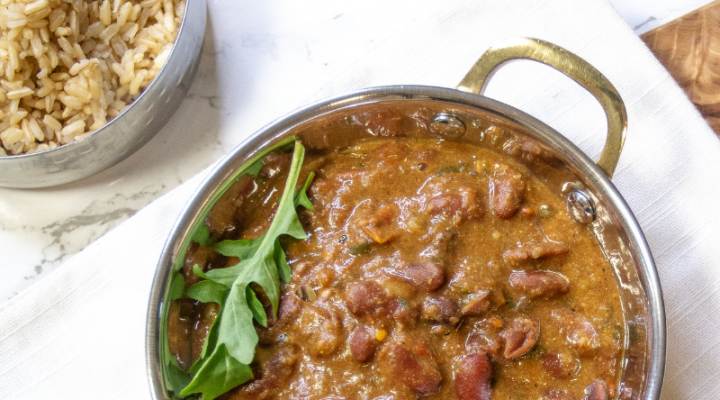 Contributed by
Jaxx Drinkwater
Red Kidney Rajma
Directions:
In a pressure cooker, add beans, water, onion, tomato, dates, garlic, coriander, salt, ginger, cumin, turmeric, garam masala and whole pepper and stir well.
Set to high pressure for 45 minutes (or use the BEANS setting if available) and press START.
After cooking, allow cooker to remain sealed until pressure comes down naturally.
Carefully remove lid and remove the pepper, if using. 
Stir in the cream, lime juice and cilantro. Turn on the KEEP WARM setting for 10 minutes, then stir well. For a thicker dal, turn on the SIMMER or SAUTE feature and heat until desired thickness is reached. For a creamier consistency, mash some beans with a spoon against the side of the pot.
Serve over cooked rice with pita or naan.
Cooking Tips:
Leave out the pepper if you don't want any extra heat. It's just floating in there and is removed after the cook time, so it doesn't really make it fiery.
I mentioned Camellia red beans because they're the perfect bean. Camellia beans are rated higher than the top governmental standard for beans. The growers set aside the best beans for Camellia. I've eaten them all my life and they are always creamy, never old and hard. You almost don't even have to rinse them they're so clean. I have never found a rock or stone in any Camellia brand beans. So just saying, if you can find them at your local store, buy them.
Jaxx Drinkwater, The Bearded Hiker, is a native of the Gulf Coast. He spends his time laying on the sands of the coast beaches, traipsing through wooded trails and creating delicious recipes on YouTube, jaxx drinkwater, and his blog, thebeardedhiker.com