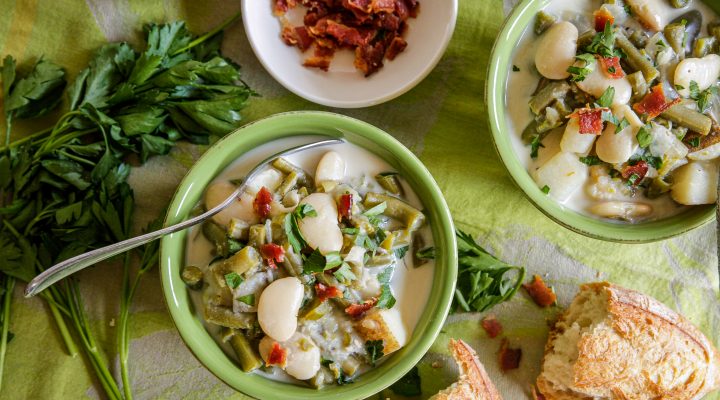 Contributed by
Crescent Dragonwagon.
Ruth's Southern Country-Style Butter Bean & Green Bean Soup with Potatoes
This recipe is a homey, end-of-summer supper, just made for the moment when your garden or local market overflows with green beans. It's affordable and fairly easy to pull together from fridge and pantry staples.
Directions:
Rinse and soak lima beans overnight.
The next morning, drain and rinse beans and place in a large, heavy soup pot with 3 cups water or unsalted vegetable stock or chicken broth. Bring to a boil, turn down to a simmer, and let cook, covered, until beans are pretty close to tender, about 1 hour.
Add green beans, potatoes, bacon (if using), onion, and celery to the pot. Add 2 quarts (8 cups) water – it will just barely cover the ingredients – and set over high heat. Bring to a boil, then turn down to a simmer and cook, covered, until the beans are very soft and the potatoes are on the edge of disintegrating, about 1 hour.
Using a potato masher, coarsely mash up some of the green beans and potatoes. You certainly don't want this smooth, but you want enough of it mashed so the consistency is soupy but thickened. Season to taste with salt and pepper, and if you omitted actual bacon, some Bacon Salt.
Just before serving, make sure the soup is nice and hot, pour in the evaporated milk, and stir well. Heat through, mindfully; don't let it boil (the milk will curdle). Serve hot, right away. (If you have leftovers, or want to do the soup ahead of time and reheat it the next day, remember to reheat carefully, adding the milk at the end.)
Note: Bacon Salt is a seasoned salt that's meatless (though it does contain wheat) and adds just the right smoky touch. It's available at www.baconsalt.com; this recipe uses the hickory flavor.
Note: This recipe is a perfect candidate for the slow cooker. Follow the directions for the recipe, cooking the soup on high for about an hour, even two, in the slow cooker. At about 1 ½ hours into cooking, do the mashing described in step 2. Then turn heat to low, and cook 2-3 hours longer.
Crescent Dragonwagon is the much-published author of fifty books in five genres, numerous magazine articles, and two blogs. This recipe comes from her cookbook Bean by Bean, a 175-plus recipe cornucopia overflowing with information, kitchen wisdom, lore, anecdotes, and a zest for good food and good times.