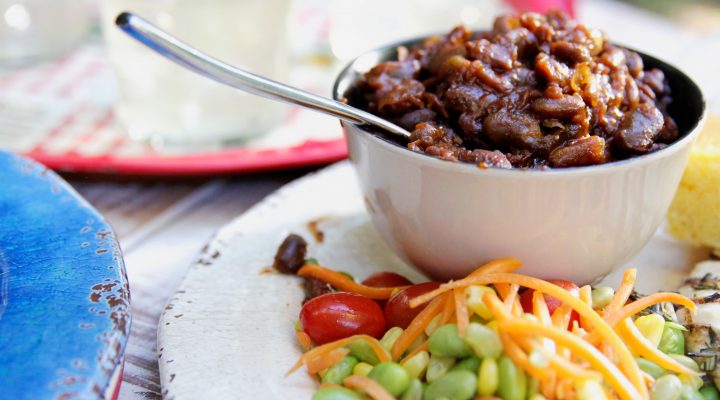 Slow Cooker Bourbon Maple BBQ Beans
Directions:
In a large container, whisk together 2 quarts water and kosher salt until salt dissolves. Add beans, cover, and let stand overnight at room temperature. Drain and rinse beans.
To a slow cooker, add beans, vegetable stock, bourbon, apple cider vinegar and Liquid Smoke (if using). Set aside.
In a skillet over medium-high heat, add olive oil and onions and cook, stirring occasionally, until the onions soften and begin to brown around the edges, about 7 minutes. Stir in jalapeño pepper, green bell pepper, and garlic and cook until fragrant, about 4 minutes. Scrape the contents of the skillet into the slow cooker.
Add ketchup, brown sugar, maple syrup, molasses, mustard powder, barbecue rub, and hot sauce to slow cooker. Stir well. Set slow cooker on low for 8 hours. Stir, and cook 2 hours more on high. Serve immediately, or store in refrigerator for up to 1 week.