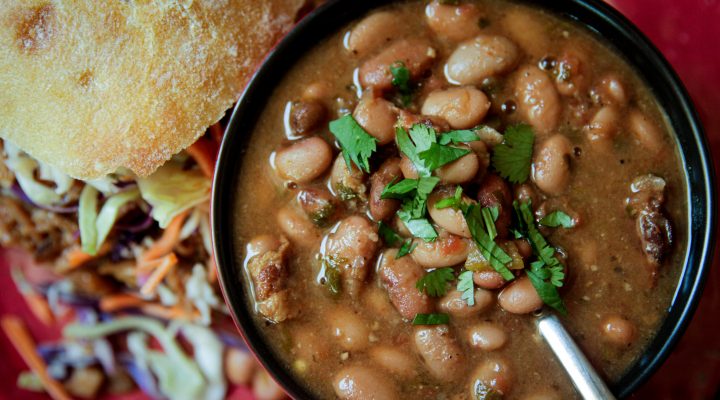 Slow Cooker Charro Beans
Directions:
In a large container, whisk together 2 quarts water and kosher salt until salt dissolves. Add beans, cover, and let stand overnight at room temperature. Drain and rinse beans.
Add beans to slow cooker along with chicken broth and beer.
In a skillet over medium heat, add oil, onion, garlic, and chopped bacon, and sauté until onions are translucent, about 4 minutes. Add tomatoes, salt and black pepper to taste, and cook about 5 minutes longer. Add marjoram and cumin, and stir to combine. Scrape mixture into slow cooker.
Set slow cooker on high for 8 hours. When there's 1 hour of cooking time left, add green chilies and cilantro; stir thoroughly to combine.
Finish cooking and serve with lime wedges and tortillas. Garnish with additional fresh cilantro. 
Served warm and with a soupy consistency, frijoles charros (cowboy beans) is a traditional pinto bean dish named for Mexican horsemen, or charros. Makes a great side dish to pulled pork sandwiches or other BBQ favorites.