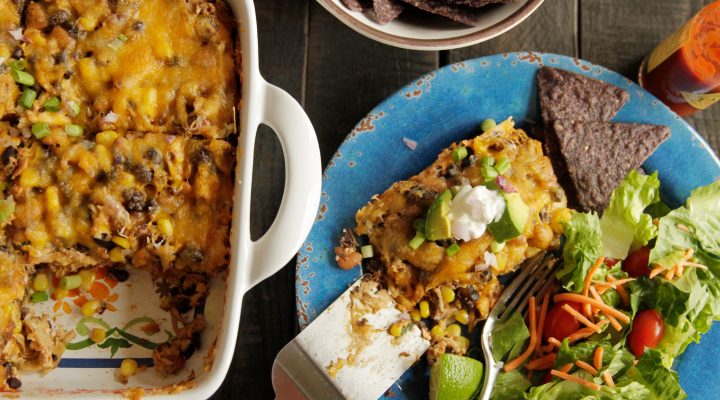 Smoked Chicken & Black Bean Enchilada Casserole
Directions:
Preheat oven to 375ºF.
Add oil to a large skillet over medium-high heat. Add onion and cook until translucent. Add beans, corn, chili powder, cumin, and Creole or Cajun seasoning to taste. Add chicken, and stir to incorporate. Add green chiles, and cook until heated through. Remove from heat and set aside.
In a medium bowl, combine sour cream, enchilada sauce, Creole or Cajun seasoning to taste, lime juice and cilantro.
Spray a 9-x-13-inch baking dish with nonstick spray. Place 5 tortillas on the bottom, breaking them up and overlapping as necessary to cover the bottom of the baking dish. Spread 1/3 of the chicken-bean mixture over tortillas. Top with 1/3 of sour cream mixture, dropping it in small dollops all over, then carefully spreading it over the chicken-bean mixture with a spatula. Repeat the tortillas/chicken-bean mixture/sour cream mixture layers two more times (for 3 total layers). NOTE: For the final layer, reverse the order of the chicken-bean mixture and the sour cream mixture, so that the chicken mixture is on top.
Cover casserole with foil, and bake for 25 minutes.
Remove foil, top with shredded cheese, and bake for 10 more minutes, uncovered.
*Note: Learn how to cook beans in advance, for use in recipes.