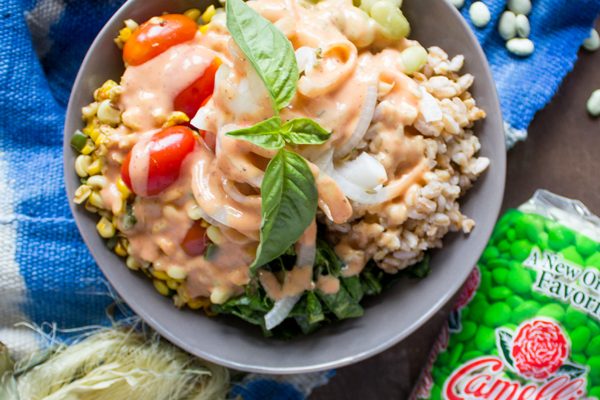 Contributed by
Jenné Claiborne
Southern Buddha Bowl
Directions:
Lima Beans
Bring water to a boil.
Rinse the lima beans (after they have soaked 8 hours), and drop them into the boiling water along with bay leaf.
Bring to a simmer, and continue to cook with the lid ajar for at least one hour or until the lima beans are tender.
Farro
Bring the water to a boil, and add the farro and salt.
Do not use salt if you're cooking the farro in salted vegetable broth.
Bring the grain to a simmer, and cook with lid ajar for 30-45 minutes, or until tender.
Quick-pickled onions
Combine the vinegar, sugar, salt, and fennel seeds in a medium mixing bowl.
Add the sliced onions, and massage gently to cover completely with the pickling liquid.
Set aside on the kitchen counter and allow them to pickle for about 1 hour.
Corn sauté
Heat a large skillet with a drizzle of oil (or avoid oil if you're using a cast iron skillet).
Add the tomatoes, jalapeño, and corn, and cook until it begins to brown and cook through (about 15 minutes).
Peach Vinaigrette
Place the peaches, vinegar, mustard, thyme, salt, and pepper in a blender, and blend until it begins to become creamy.
Slowly drizzle in the olive oil, and continue to blend until it is absolutely creamy.
Collards
Place the collard ribbons in a large mixing bowl, then add in the peach vinaigrette.
Use your clean hands to massage the collards for about 3 minutes, or until the greens are tender.
Assemble the Buddha bowl
Place ½ cup of the lima beans, farro, corn saute, and collards in each bowl. Top with the pickled onions and peach vinaigrette. Enjoy!!
Adapted from Sweet Potato Soul. Copyright © 2018 by Jenné Claiborne. Photographs copyright © 2018 by Sidney Bensimon. Published by Harmony Books, an imprint of the Crown Publishing Group, a division of Penguin Random House LLC.