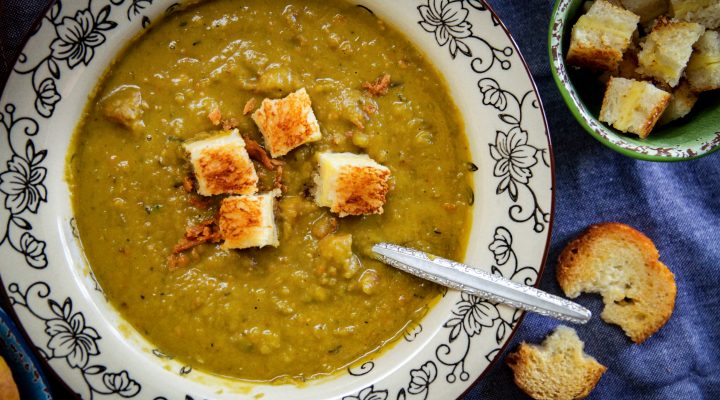 Contributed by
DeepSouthDish.com
Green Split Pea and Ham Soup
Directions:
Cook the bacon in a soup pot, until fat is rendered but not until bacon is crisp.
To the bacon and drippings, add the chopped onion, celery and carrot; cook over medium until tender, about 5 minutes. Add the garlic; cook another minute.
Rinse and sort through the peas and add to the pot, along with the herbs and bay leaves. Cook and stir another minute, then add the stock or water, Liquid Smoke, if using, and ham hocks. Bring to a boil, reduce heat and simmer uncovered on very low for 1 hour, stirring occasionally.
Add the chopped ham to the beans and simmer low for 30 minutes longer. Peas will have broken down and soup should be very thick. Remove bay leaves and discard.
Add salt, pepper and Cajun or Creole seasoning; taste and adjust seasonings as needed.
Cook's Notes: May serve as is, or if you prefer a smoother texture, puree with an immersion blender or carefully transfer in batches to a food processor before adding in the ham. If you have the extra time and for a boost in flavor, use a leftover ham bone or a few meaty ham hocks to first make a ham stock as your soup base. Water may be substituted but add in 2 tablespoons of chicken base with the soup.
Pick meat off of the bone or hocks and use in the soup. May omit Liquid Smoke if using a homemade ham stock. In place of the thyme and rosemary, I use a teaspoon of Herbes de Provence.
Recipe from Mary Foreman, publisher and author of DeepSouthDish.com, an online blog about Southern cooking. Mary published her first cookbook, Deep South Dish Homestyle Southern Recipes in May 2015. It's a compilation of her most-loved and top southern favorite recipes, including several that are cookbook exclusives.